At Ciel & Terre, we use our field experience to improve the FPV solutions we design and offer. The "Bow and Arrow" system that we present in this article is certainly the perfect example of how we use our field experience to improve our products. To develop and design this system we worked with Hazelett Marine, an expert in mooring systems composed of elastomer. Together, we imagined an alternative anchoring system that helps to gain elasticity in the mooring lines. As a matter of fact, our R&D department always correlates lab testing and simulation with on-field feedback to enrich their work on the continuous improvement of our solutions.
Site specifications lead to anchoring adaptation
All began with the observation made on one of our former projects. Indeed, we noticed that with time, the elasticity provided by the existing anchoring system needs to be improved on specific cases.
So considering the site conditions, how to rework the anchoring of old projects and bring more elasticity in the mooring lines?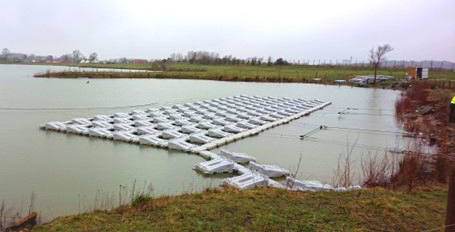 The Bow and Arrow anchoring system is the perfect solution in that case. In short, it allows to manage the array movement area and to afford a slight load increase in the mooring lines.
In addition to the cost improvement, the system provides technical advantages such balancing the load more efficiently. By keeping unwanted phenomenon under control, the Bow and Arrow anchoring appears to be the most reliable system, especially in typhoon zones, where wind loads can be extreme.
The Bow and Arrow installation at real scale.
Our anchoring on site tests and simulations.
At Ciel & Terre we have one main principle, we test everything we design! From FPV products to anchoring technologies as well as additional accessories, we want them to be reliable. To do so, we apply a strict and precise quality process of validation. We have applied several testing processes for the Bow and Arrow to validate our design.
First, we installed the Bow and Arrow prototype on our test site. For several weeks, we have applied a certain number of repetitions on the mooring lines within different configurations. Another key point is that it allowed us to try different assembly methodologies to validate the most efficient and effective methods for both bank and bottom anchoring.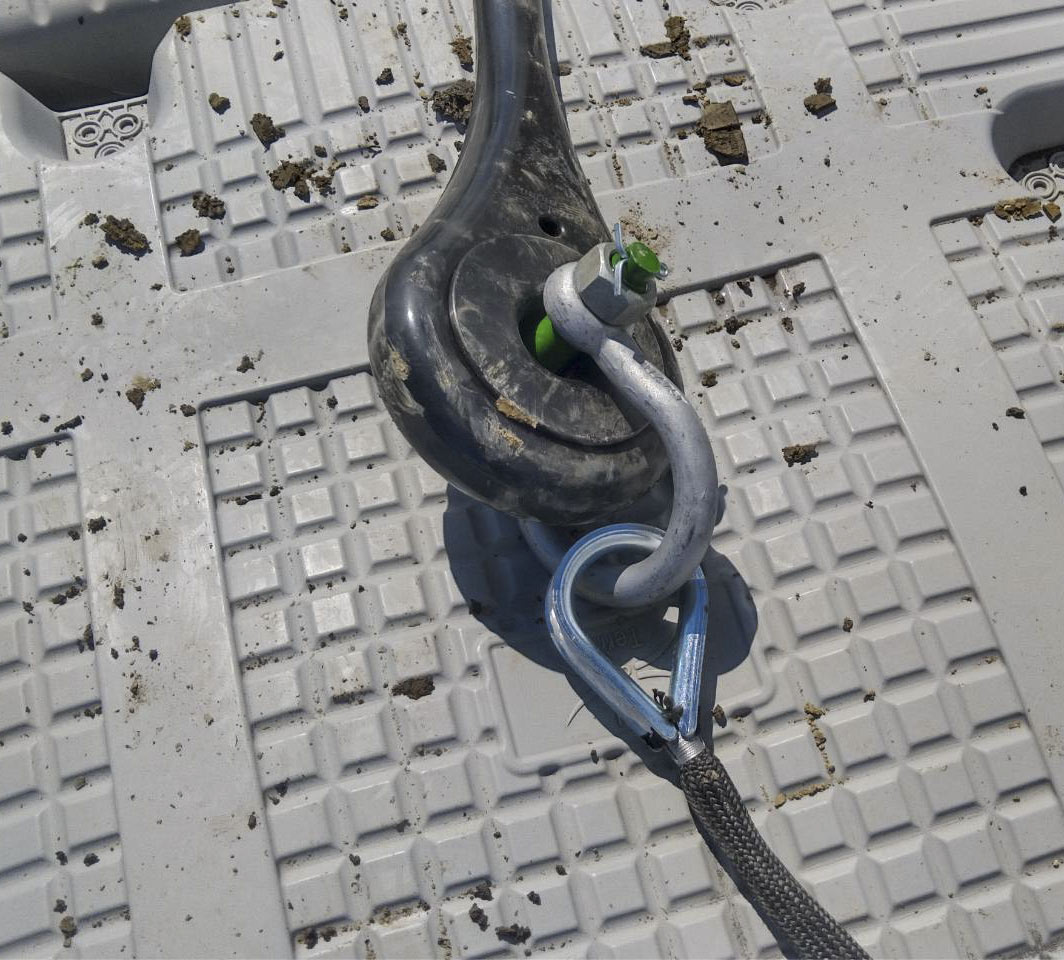 image: Bow and Arrow system installed on mooring lines
After testing on our test bed site, we correlate our testing on our simulation tools. We start with the integration of all data validated by our field tests. In addition, we implement as well other types of safety factors based on our internal design rules and Bureau Veritas' Safety factors, and the maximum resistance capacity provided by our elastomer supplier to allow to define precisely the number of mooring lines needed for customer project. Finally, we can create large-scale designs on our simulation tool.
First Field application of the Bow and Arrow anchoring system:
As we mentioned at the beginning of this article, this new solution came from field feedback. With the evolution of our FPV systems over 12 years, the design rules have evolved too. Therefore, some former projects were not fully compliant according to our current product's design rules. It is important to remember that the floating solar market is still a young market where there was no dedicated standard, and rules have been established. Even if we observe a structuration of this market since 2019, it was not yet the case at its beginnings.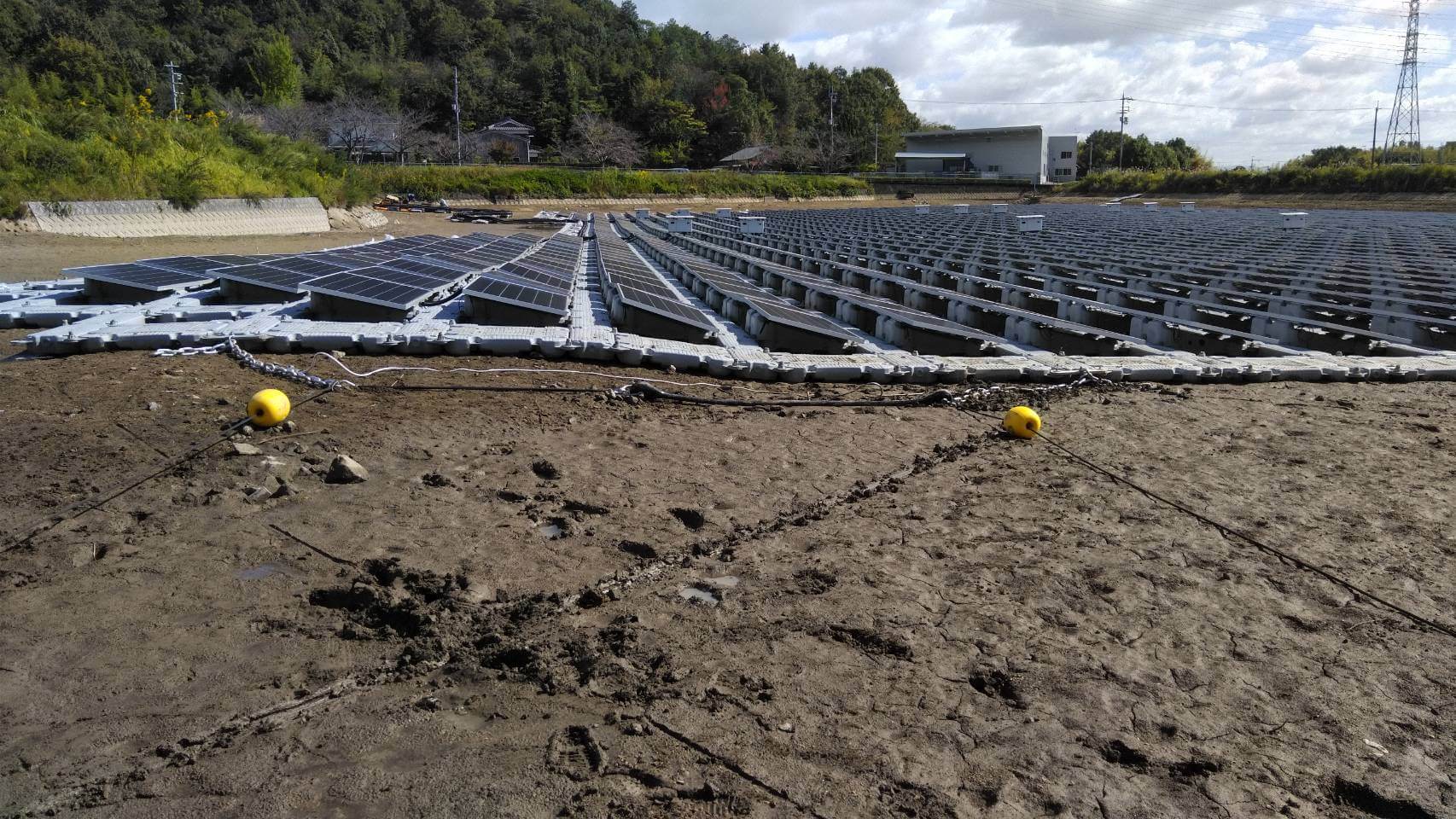 image: the installation of the elastomer system has been done during dry period of the pond to ease the installation on the existing mooring lines.
All things considered, we decided to develop a system allowing us to improve the existing anchoring installation and meet new safety requirements by providing more elasticity in the mooring lines already in place. After the design and validation of this new system, we selected one of our own projects in Japan and we started the installation of the Bow and Arrow anchoring in September 2022.
Read more articles about our anchoring solutions :