At Ciel & Terre, we engineer the Hydrelio® floating solar solutions and design optimized floating PV plants. Our great care and attention to each market and site's specificities offers highly reliable products and plants. Their liability is the origin of the bankability of floating solar projects. To stick to this, we joined over a year ago the DNV-GL consortium on recommended practice to expand floating solar.
Floating solar is a relatively young market which is clearly booming. Therefore, it needs some structuring and standardization. This context gave birth to the collaborative initiative led by the DNV and a milestone document for the floating solar industry: Recommended Practice.
BUILD A MILESTONE DOCUMENT FOR FLOATING SOLAR: HOW DID IT WORK?
The JIP was kicked off in summer 2020 and the guidelines elaboration time was punctuated by collaborative workshops to determine the standards.
List of the 24 members of the Floating Solar JIP consortium
DNV | Acciona Energia | Baywa r.e. | Blue C Engineering | Carpi Tech | Makor Energy Solutions | Ciel & Terre International | CNR (Compagnie National du Rhône) | EDF Électricité de France | EDP Energias de Portugal | Equinor | Innosea part of Aqualis Braemar LOC Group | Isigenere | JLD Contracting | Mainstream Renewable Power | Noria Energy | QuantSolar Technologies | RWE | Scatec | Seaflex | SolarMarine Energy | Statkraft | SunRise E&T Corporation | TNO | Total
Learn more about the world's first consortium: DNV-GL on recommended practice for floating solar power projects here: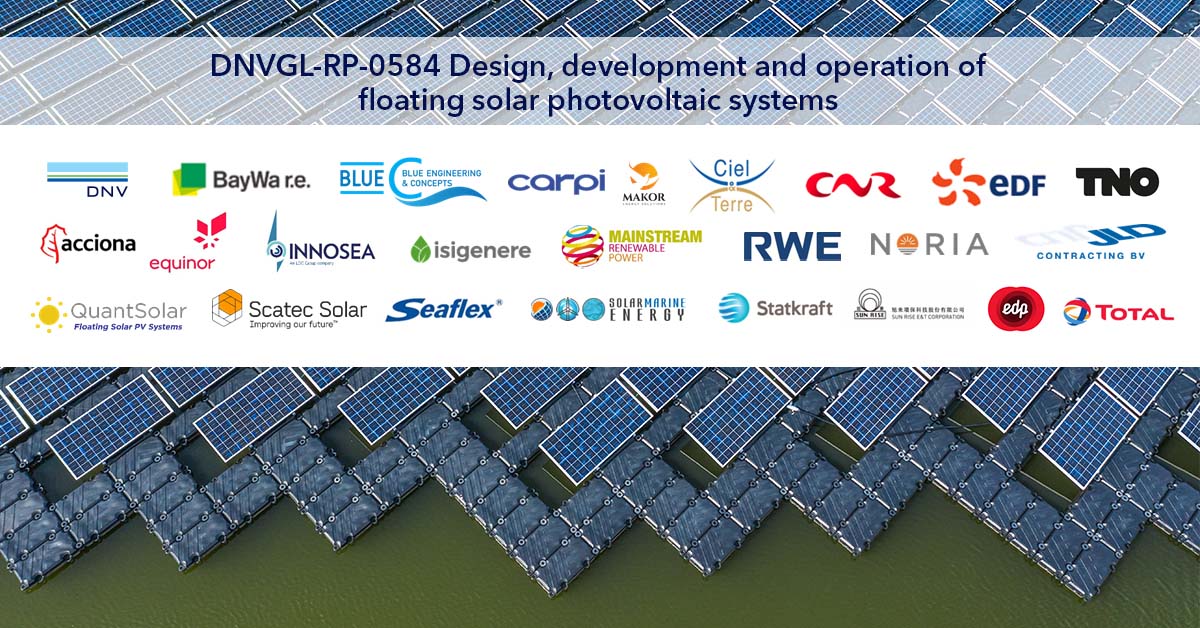 What does the recommended practice say?
DNV-GL Recommended Practice for floating solar projects was issued in March 2021. They present the very first standards of the floating solar industry. They include a series of the technical requirements for a safe, sustainable and smart design, development and operation of floating solar plants. The insights respond to associated complexities which are also key success factors. For example it includes:
Site conditions assessment
Anchoring and mooring issues
Design of plants compatible with "site-specific environmental conditions"
Floating structures
And other topics like
Energy yield forecast
Operation and maintenance.
These guidelines focus on methodology and are as technology neutral as possible. The aim is to provide recommendations as well as applicable procedures to most FPV projects on inland and near-shore water bodies.
This reference document entitled Recommended Practice (DNVGL-RP-0584) can be downloaded here:
WHY THIS CONSORTIUM WORKED ON STANDARDS
A commonly built and recognized guidance enables to design, develop and operate floating PV plants in a smarter ways. As such, it supports the enhancement of all the floating PV projects for the sake of their investors, owners and activators like governments. They may "drive the adoption and scaling of this technology to accelerate the pace of energy transition" said Ditlev Engel, CEO of Energy Systems at DNV.
For us too, the Recommended Practice are "a great step towards unlocking the potential of floating solar" in the words of Olivier Philippart, Ciel & Terre's co-Division Director. The DNV JIP approach helps increase
which is particularly helpful to produce green energy where land is scarce.
This assessment of a great potential for floating solar relies on the acceleration of its development since the first floating PV projects a decade ago. The installed capacity reached 2 GW towards the end of 2020. More over, the total global potential capacity on manmade, inland waters alone is estimated to ~4 TW with an expected pipeline of more than 10 GW by 2025.