What is your professional background?
I graduated in 2011 with a Master's Degree in general engineering from a French engineering school, ICAM. My major was mechanical and my minor was electrical which helps me a lot in the floating solar field.
More about Bertrand's journey below.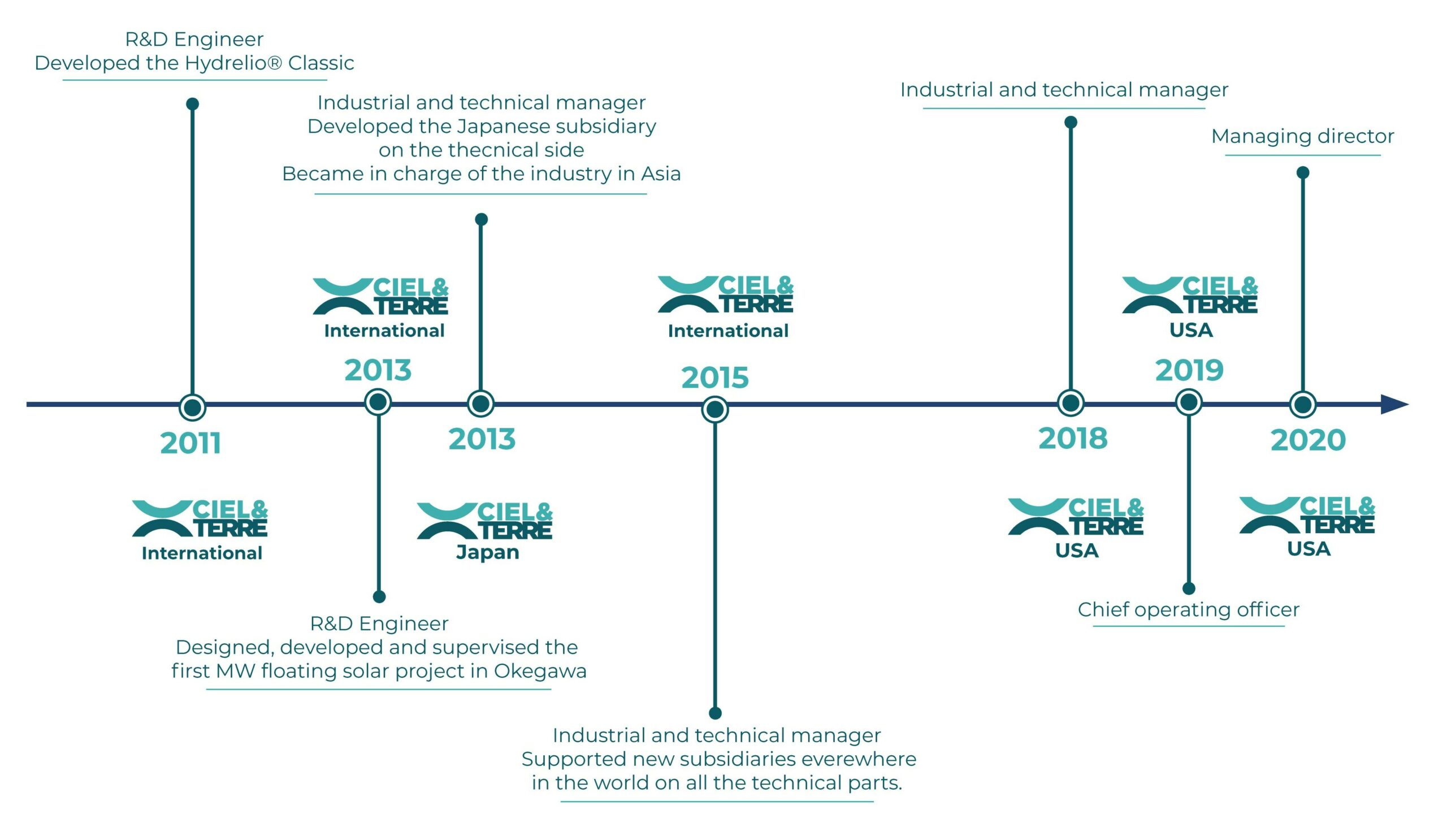 For how long have you been working for this company?
I joined Ciel et Terre France 12 years ago as R&D engineer. I was hired to develop our first Hydrelio product, Hydrelio Classic. At that time, nobody knew about floating solar (included us). Even with our experience in rooftop and ground mount solar, we started from scratch and worked hard to create a first floating solar product and to build the floating solar business.
After building our first MWp FPV in Okegawa, I moved to Japan in 2013 and joined Ciel Terre Japan to support and supervise projects. My role evolved during my years there and I became in charge of the Industry/Manufacturing in Asia.
In 2018, I moved to US to manage the Industry/Manufacturing. I now oversee our global business in the Americas.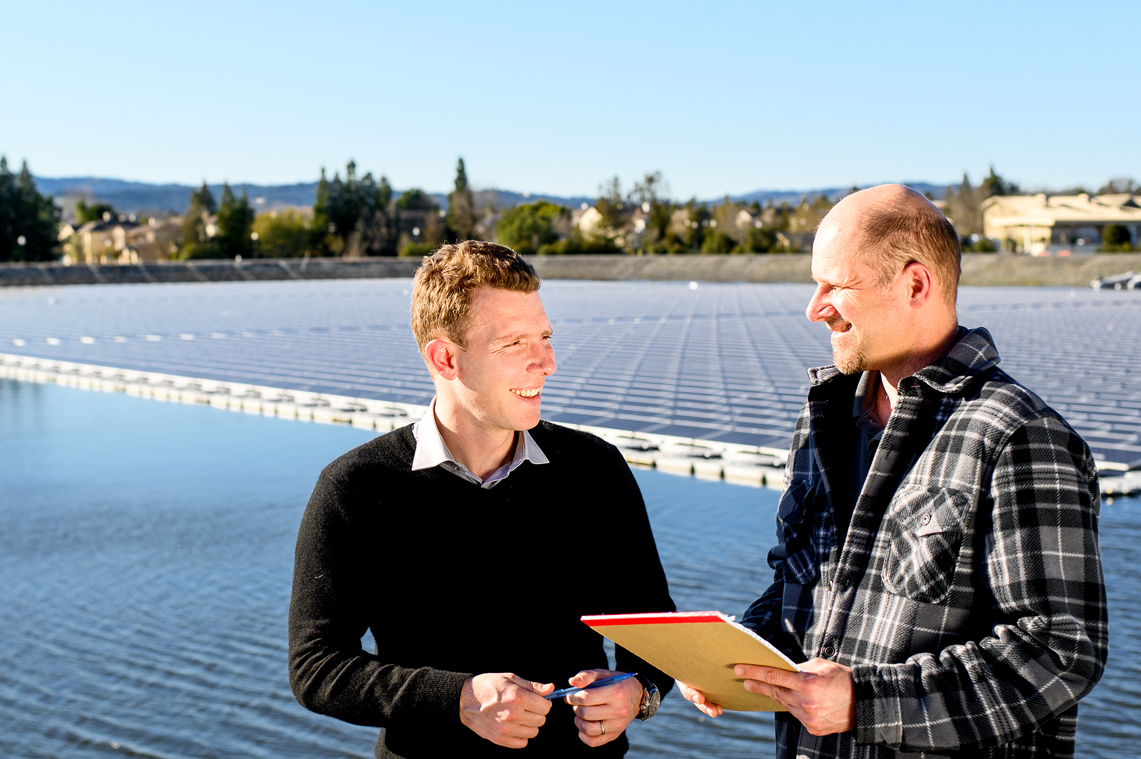 What was the context like when you moved to Japan?
As for the country itself, in 2013 the Japanese government was pushing for solar through high feed in tariff after the Fukushima nuclear disaster.
As for Ciel et Terre, when I moved to Japan, we were in a "all in" type of situation. Don't forget that the floating solar business 10 years ago was nothing like it is now. Everything had to be done. We used our last resources to open the subsidiary. It was a risk we were willing to take, and it paid off.
How would you summarize your experience in Japan?
It is hard to summarize such a rich experience. For a European, the Japanese culture is completely different and quite complex. It was not easy to adjust at first, the barrier language barrier didn't help neither, but the people are really nice, welcoming, helpful, hardworking, and the life is extremely convenient.
Japanese people are not easily open to changes because everything needs to follow some type of process. It can be frustrating, and all changes take time so it was hard to bring a new foreign technology but we did adapt, improved, learnt, met the right people, managed to convince customers and to build projects.
I pretty much fell in love with Japan and even met my wife there.
I spent 4 years in Japan and even if it was my decision, I cried when I left.
Why did you choose to go to America, and how did it happen?
In 2017, Ciel et Terre in Asia was running well with a good team in place so I was looking for an exciting new challenge. Ciel et Terre needed somebody to help starting our subsidiary in the US so it was the perfect timing for Ciel et Terre and for me.
What can you say about your American experience since 2018?
My experience in the US has been great so far. The life, the culture and the way of doing business is closer to what we can find in Europe so it was fairly easy for me to adapt.
Even if the FPV market was already big in Asia and Europe in 2018, it was really new and pretty much unknown here, so we had to work again on spreading the good word about floating solar. We had to build everything again step by step, small/pilot projects leading to larger projects. Today, FPV is well known, and we have a large pipeline of projects. A lot of people believe in floating solar.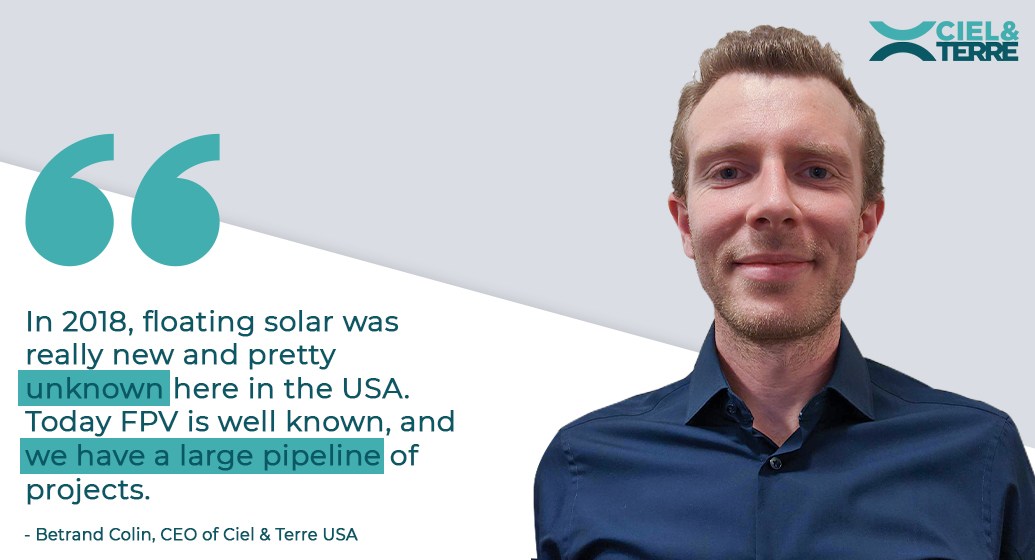 Is the US floating solar market specific? If yes, can you explain?
The US floating solar market is specific because the regulations are strict, the installation cost is high, and the maintenance aspect is really important therefore some products/configurations cannot be sold here when it is the standard in other countries. On top of that, the US is a large country with different states, different climates, and different constraints. Designing a project in Florida (hurricane area) and designing a project in California or in Massachusetts (heavy snow loads) is completely different. It makes things harder but interesting, we are never working on the same type of projects.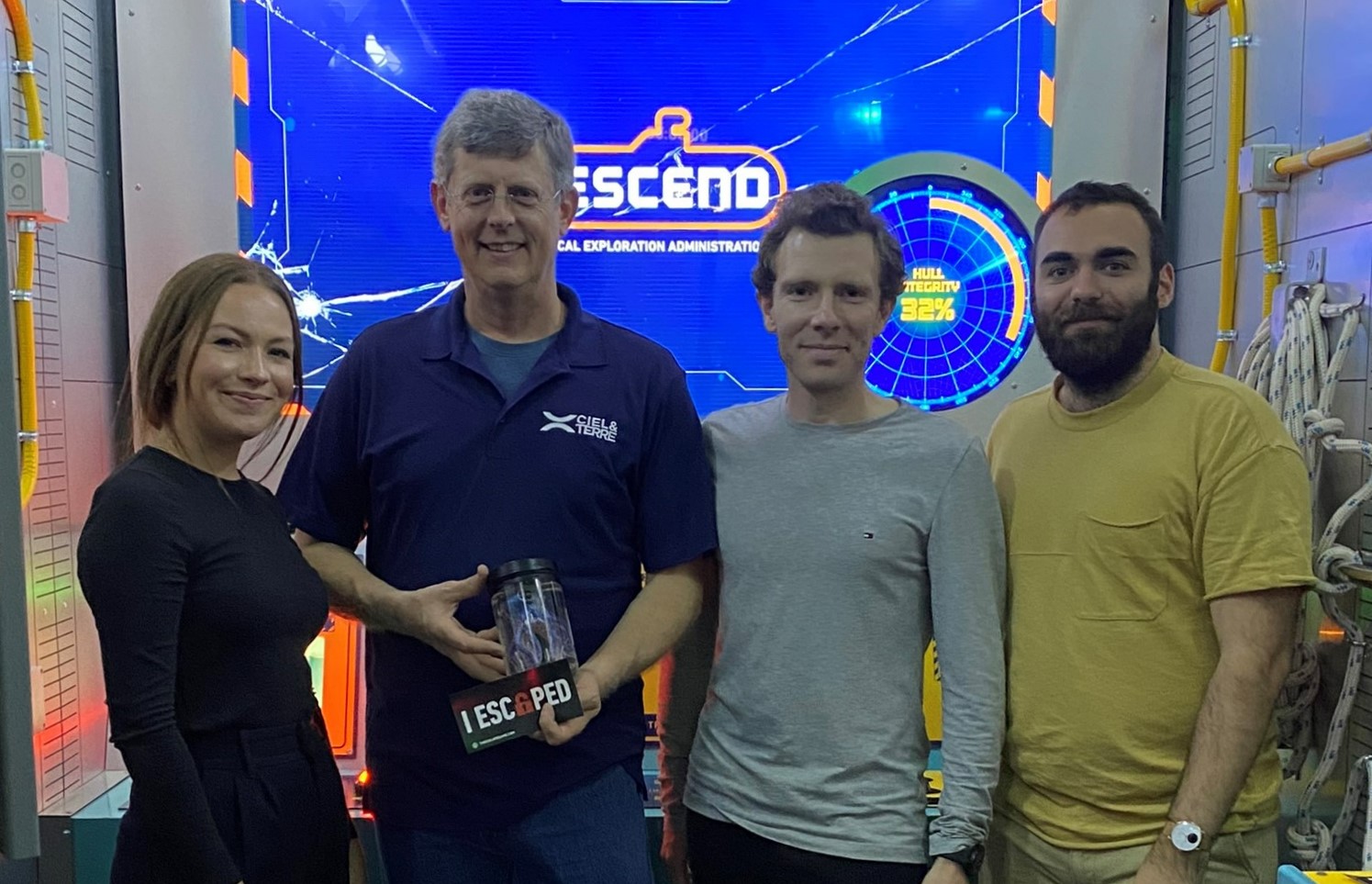 Since you arrived in the US, what has been the most memorable moment for you and for your team/for the office?
The most memorable moment for the team and for me is probably when we signed the Canoe Brook project in 2022. It is currently the largest project in the US, 8.9 MW. It showed to everyone how much the FPV market evolved and how big is the potential. For the team, it brought confident because we started to work on this project in 2017. It can take time but all projects and preliminary designs/quotes we are working on are seeds waiting to bloom.
More about Canoe Brook FPV project: see Canoe Brook project recap
What is the strength of your USA team?
Aside from the fact that all the team members are smarts and have a terrific knowledge about FPV, the team shares the same work priorities, with good collaboration and communication. This is the key for us to achieve our goals even under pressure with hard deadlines.Each member truly believes in what we do and is willing to go the extra mile.
You worked in several countries with Ciel & Terre. Why?
I always liked to travel and to experience new cultures. It helps you understand people and gives you some perspective.
I also have always been opened to anything so when opportunities were available, I took them. We should not overthink things and be ready to get out of our comfort zone from time to time.
I didn't really plan to live/work in several countries, but it happened thanks to Ciel et Terre and it is a great experience.
What animates you in your managing director job today?
Making decisions can be hard but this is what animates me. I feel useful by making them.
Of course, some decisions can be bad, but I believe that a bad decision is better than no decision. We all make mistakes, we just need to learn from it and move forward. The solar market is evolving fast, so we need to adapt, adjust and decide quickly which direction we are heading to. Being involved with every department and sometimes being there to smooth things over for my team is also what I enjoy doing.
What kind of opportunities do you foresee for Ciel & Terre USA in the upcoming years?
Several governmental departments/agencies already worked on the amazing potential for Floating Solar in the US and the market is gearing up for large scale FPV projects. On top of this, the federal government recently released a new Act to help increasing the domestic energy production including Tax Credit for solar plants.
There are plenty of opportunities coming up for Ciel et Terre USA, potential projects are coming from everywhere with different types of water bodies and different types of customers. The next years will be busy for us but as I stated before, our team is ready for the challenge!
Interested in joining the Ciel & Terre teams? Apply here.
By BERTRAND, CEO of Ciel & terre USA
& LAURA, marketing