Lille, June 05, 2023 – Ciel & Terre has now exceeded 1.5GWp of projects with giant floating solar projects currently installed and 400MWp under construction. It's been 13 years that Ciel & Terre is one of the leading companies in the floating solar market with more than 280 projects installed in more than 30 countries, an equivalent of 820MWp of green energy currently in production. The company has become a trustworthy Gigawatt player with the greatest experience in floating solar on the market.
Floating solar pioneer reaches 1.5GWp in its pipeline by 2023 and became a gigawatt player
Since the installation of the very first megawatt-scale project in 2013 in Japan, Ciel & Terre has designed, anchored and built floating solar plants in dozens of countries around the globe. The company's track record has reached more than 280 projects installed worldwide representing around 820MWp energy production. No other company around the world has built as many FPV plants. Including projects currently being designed or under construction, there is more than 1.5GWp in the total pipeline of the French floating solar company.
Ciel & Terre is also known for the large diversity of floating solar applications. Indeed, the company has already installed several projects on quarry lakes, irrigation ponds, hydro dams, water treatment plants, industrial ponds, and waterways such as Kayamkulam (India 73.4MWp), one of the latest FPV projects installed in India, but also protected sea shores like Changbin (Taïwan 88MWp).
Image: Kayamkulam (73.4MWp) project installed on a waterway by Ciel & Terre India.
The company's upcoming giant floating solar projects
Currently, two other very impressive projects are currently under construction in Taiwan and India.
The first one is the continuation of the initial project Changbin located in Taiwan. The power target is about 192MWp, installed on a sea area. As for the first step of the project, one of the main challenges for this extension is to manage the salty water effects on metallic parts with a very careful selection of materials with an anti-corrosion screw set solution. Another challenge is the waves and tides which are quite demanding for the anchoring in a cyclonic zone. Ciel & Terre Taiwan has created an innovative anchoring system that distributes the anchoring loads according to the tide level.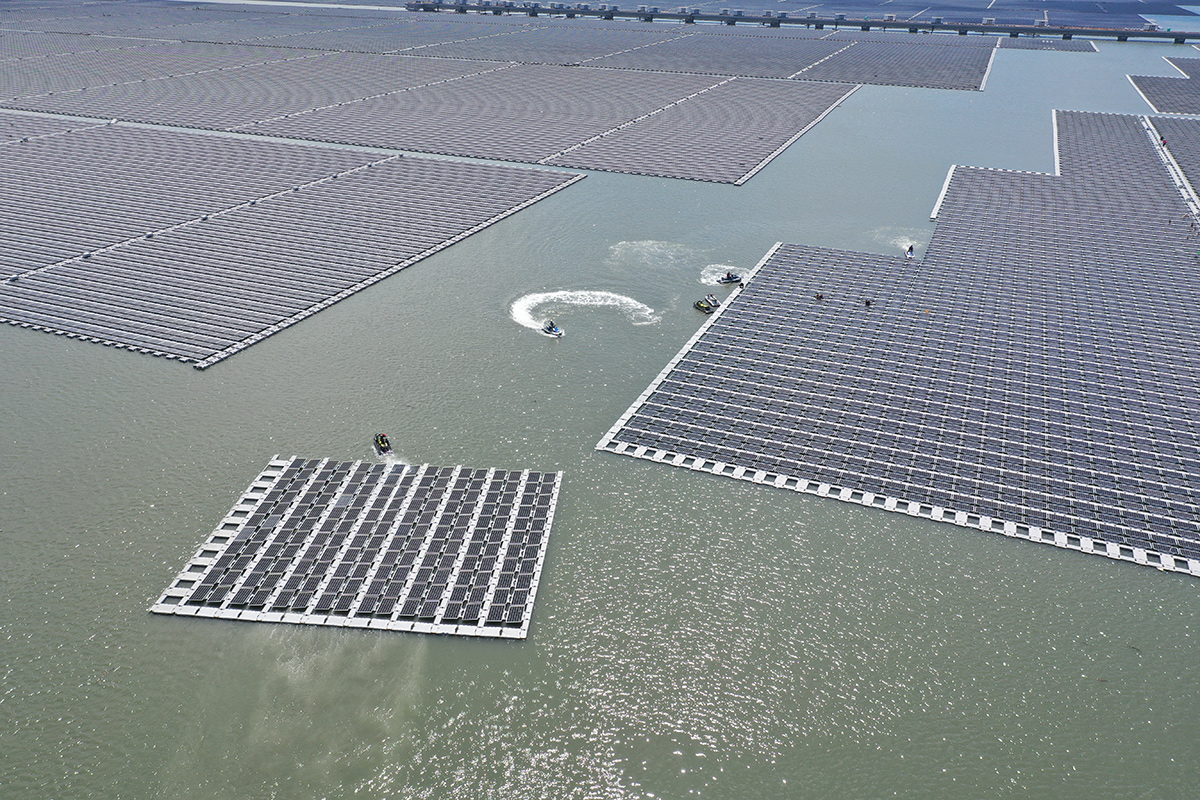 Image: Changbin floating solar project installed in Taiwan nearshore.
The second, located in Central India, is currently being installed on a huge cascading reservoir and will reach 120MWp. The site is actually quite challenging in terms of environmental loads considering the wave height, the water depth, the nature of the rocky lake bed, which are very specific to such type of application on dams. Ciel & Terre's scope goes from the design of the FPV plant and its anchoring to the installation. This is the second project of Ciel & Terre India for which the floats are produced by its own factory specifically installed near to the site to limit transportation costs and carbon emissions.
Several other projects exceeding 50MWp are also in progress in various countries. As a gigawatt player, Ciel & Terre aims to deliver a cumulative 2GW of floating solar projects by 2026.
About Ciel & Terre, world leader in floating solar power
Founded in France in 2006, Ciel & Terre previously specialized in developing and installing rooftop and ground-mounted solar power plants in France and La Reunion. In 2010, the company pioneered the concept of "solar on water" with its innovative and patented Hydrelio® technology. The first MW-size industrialized floating solar system in the world was installed by C&T in Japan in 2013, bringing now a ten-year experience in harsh conditions. Floating solar is a direct answer to the lack of space and land use conflicts. Ciel & Terre develops its projects around the world on artificial ponds such as hydroelectric dams, water treatment or irrigation reservoirs, quarry lakes, industrial reservoirs, and now on near-shore sea areas.
Ciel & Terre provides a complete turnkey solution from the engineering of the plant and its anchoring to its installation and maintenance. As of today, the company has built more than 280 projects in the world, representing a total of 820MWp in 32 countries.