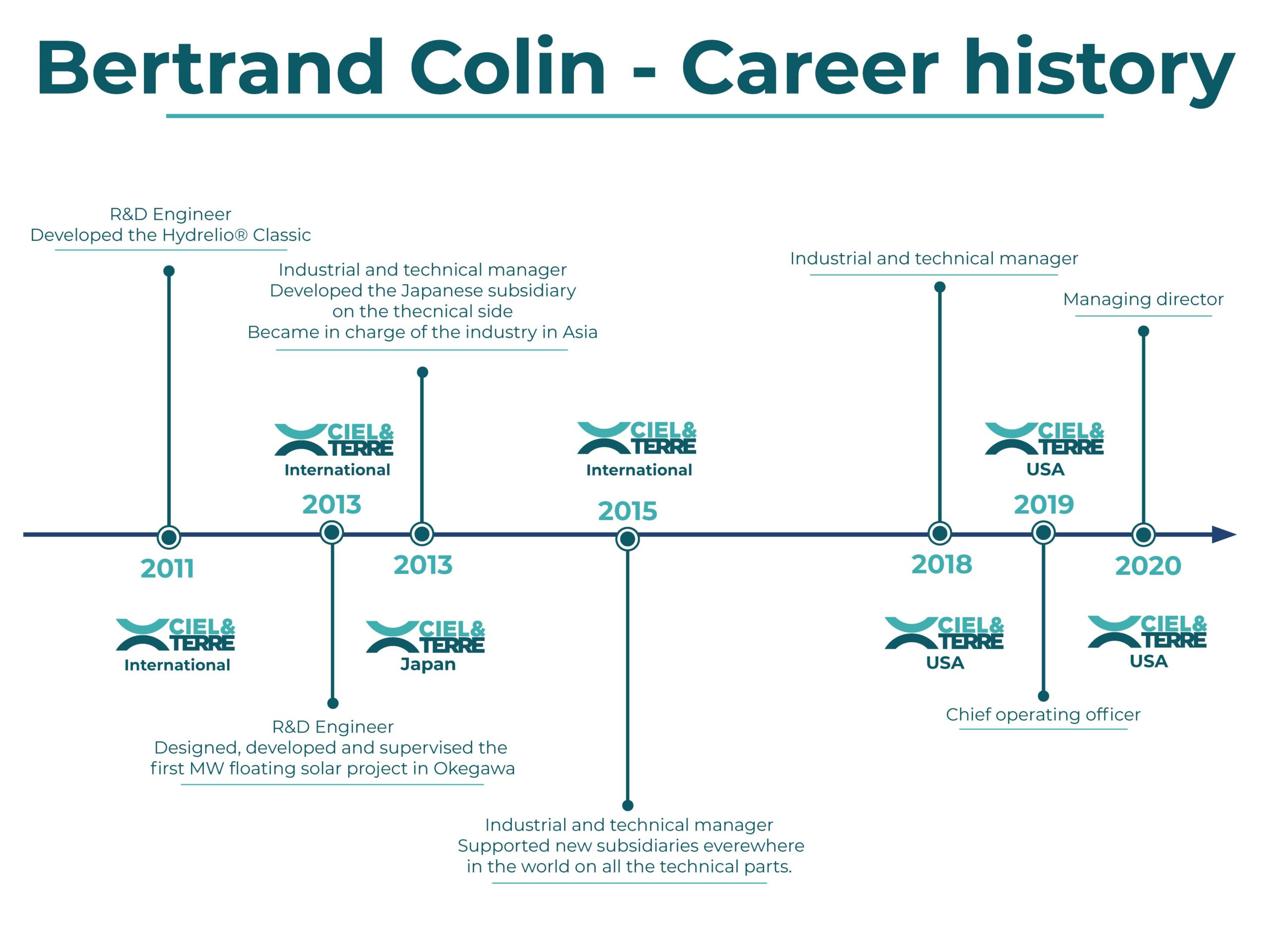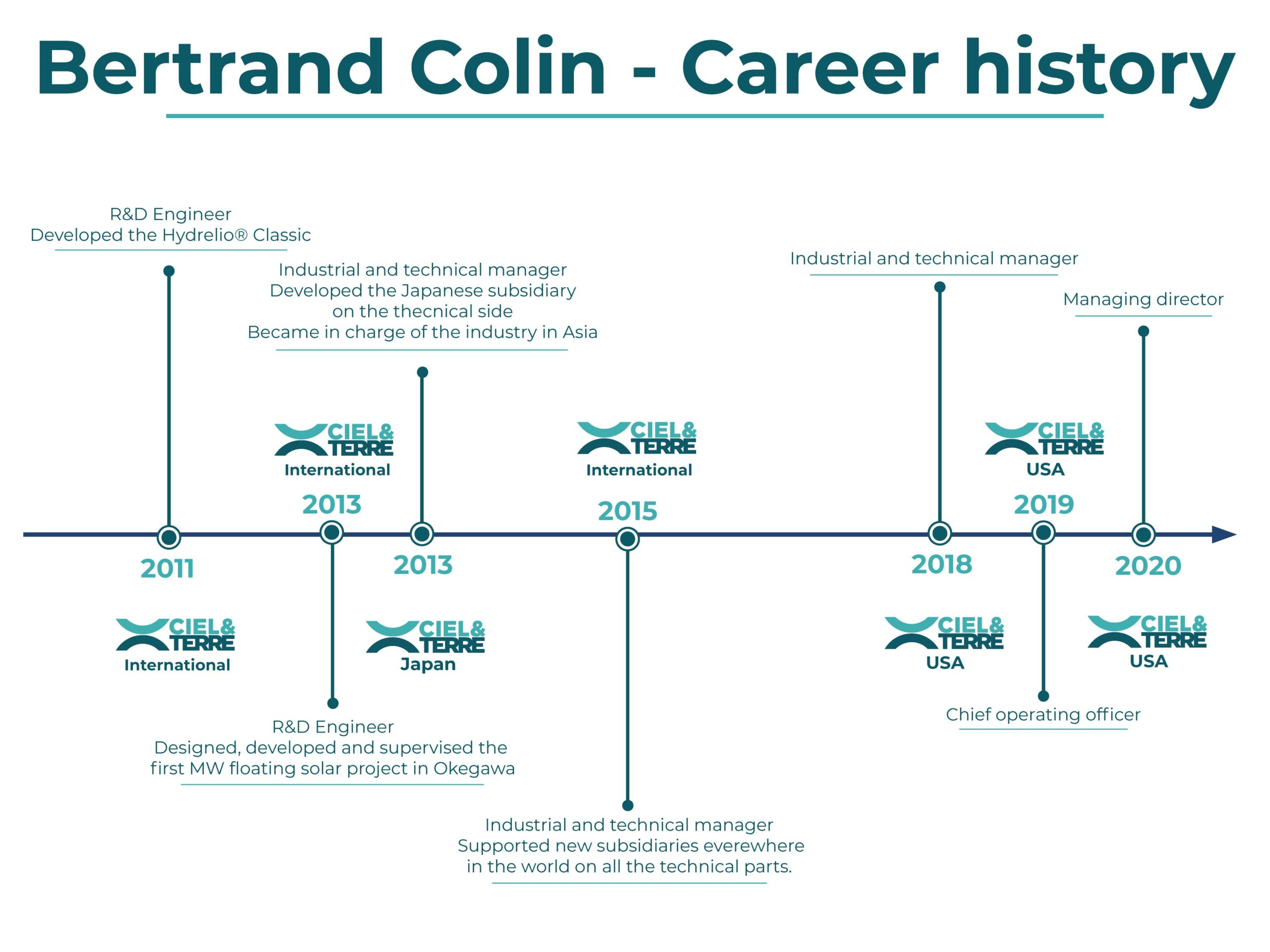 What does Ciel & Terre represent to you?
Ciel & Terre and floating solar are a way to reduce our carbon footprint and a way to replace fossil energy. I also consider Ciel & Terre as a family.
According to you, what are Ciel & Terre's spirit and most important values?
Of course, professionalism and expertise are some of our most important values, but the human element is really at the heart of the company. This is the key to our success
What qualities do you think Ciel & Terre people have?
It is a tough question. I would say that each member of Ciel & Terre has different qualities and when you unite these members, you get a great team. And this is what we have today.
So far, what has been the most memorable moment for you?
In 10 years, I had the chance to see several memorable moments, but the most memorable moment for me was probably the construction of the project Okegawa. That was the first MW floating solar project in the world and that was also a huge achievement after many years of work. We had finally made floating solar a reality, moving from a "crazy" idea to a fully built floating solar system.
What is the most important thing you've learned from your experience in Ciel & Terre?
That with a good idea and lot of work, everything is possible. We were less than 10 people in France working on floating solar 10 years ago. Today we are more than 200 people working in 13 different offices.
What is your favourite mantra?
What animates you in your managing director job?
Making decisions can be hard but this is what animates me. I feel useful by making them. Of course, some decisions can be bad, but I believe that a bad decision is better than no decision. Being involved with every department and sometimes being there to smooth things over for my team is also what I enjoy doing.
What kind of opportunities do you foresee for Ciel & Terre in the upcoming years?
Floating solar started as a niche market but everybody is now looking at it as any other solar solution, same as ground or rooftop. I believe that floating solar and Ciel & Terre will be part of the global energy transition. There are a lot of water bodies out there and we are looking at the GWp range in the next years. Energy storage will also be part of it. Our team is ready for the challenge!
What kind of opportunities do you foresee for Ciel & Terre in the upcoming years?
For Ciel & Terre in Taiwan, a wonderful one! We have an amazing FPV pipe up to 2022 so far. We are offering complete turnkey solution to our clients including EPCM and O&M services. We are developing and investing into new markets such as "solar aqua-farming". Moreover, we have established in 2019 the Taiwanese holding Laketricity that allows us to venture in these new opportunities.
More globally, Ciel & Terre can become the worldwide reference in the floating solar industry, not only for inland's projects. Indeed, the next massive thing is offshore FPV, we must go in that direction, and we are already working on it.
What do you think the future will be like in 10 years?
If somebody had asked me this question 10 years ago, I would have been wrong! We all know that we must fight climate change. We are waiting for technology to save us because we do not want to change our way of life, the solution is probably just there. Solar has a great future and Ciel & Terre will be doing its part.