Alexis Gaveau, CEO of Ciel & Terre International shares with us his background, his role, and most importantly his vision of Ciel & Terre. Discover the company through Alexis Gaveau's eyes: the most memorable moments, lessons learnt and of course the skills to be a CEO.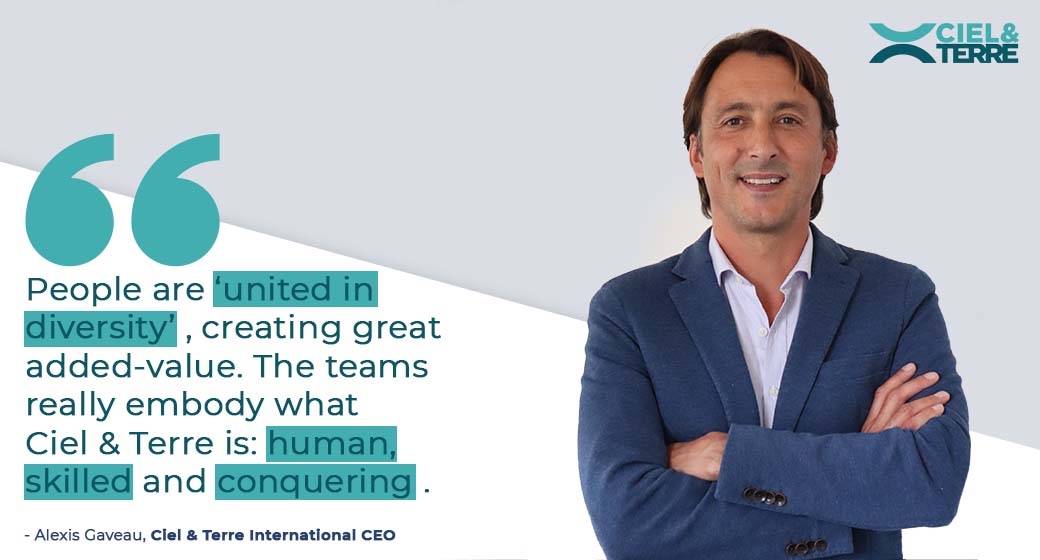 ALEXIS GAVEAU (CEO OF C&T), CAN YOU TELL US MORE ABOUT YOUR BACKGROUND?
I have an engineering and project management background. I studied mechanics, and my first experience was in a textile company. Then I have been project manager in an IT company for 5 years. Yet, I felt like becoming an entrepreneur. As I was reflecting on what I could undertake, I met Bernard Prouvost. Bernard was already comfortable with the energy industry with a strong experience in windpower. He had just created Ciel & Terre, a company developing rooftop solar projects. It appeared obvious that solar would be an energy with and for the future. Bernard was an enthusiast, and I was an entrepreneurial engineer. We managed, along with the teams, to make Ciel & Terre what it is now. An innovative company which has then pioneered in floating solar, and which continues to develop good technology and ambitious projects to make renewable energy a reality.
CAN YOU DESCRIBE YOUR ROLE WITHIN CIEL & TERRE?
I think the main role of the CEO is to liberate and focus on the energy of the team in the dynamics of the mission and the dream of the company.
WHAT DOES CIEL & TERRE REPRESENT TO YOU?
Ciel & Terre is for me a wonderful brand. The name itself means we are working for our planet. The mission we have: to simplify, integrate and spread renewable energies into their environment is for the sake of a sustainable world.
Ciel & Terre is also a multi-cultural team animated by the same drivers: the ambition to be ever more innovative and performing, always increasing skills and willing to remain state-of-the-art and develop great projects. Another shared principle is the conviction to develop sustainable and durable technologies, taking care of the impact of our projects in terms of environment, people, etc. All those people are 'united in diversity', creating a great added-value for our partners and a family-like company internally. The teams really embody what Ciel & Terre is.
ACCORDING TO YOU, WHAT ARE C&T'S SPIRIT AND MOST IMPORTANT VALUES?
First of all, I would say Innovation. This is the essence of who we are and that is what made us the pioneers of the floating solar adventure worldwide.
Then we are definitely conquering and skilled while remaining human – even if we grow bigger and bigger in terms of number in the meantime. We owe this a lot to our teams who are very involved wherever they are around the world and have this relational strong asset.
SO FAR, WHAT HAS BEEN THE MOST MEMORABLE MOMENT FOR YOU AND FOR THE COMPANY?
There is no one most memorable moment for me. We went through so many milestones: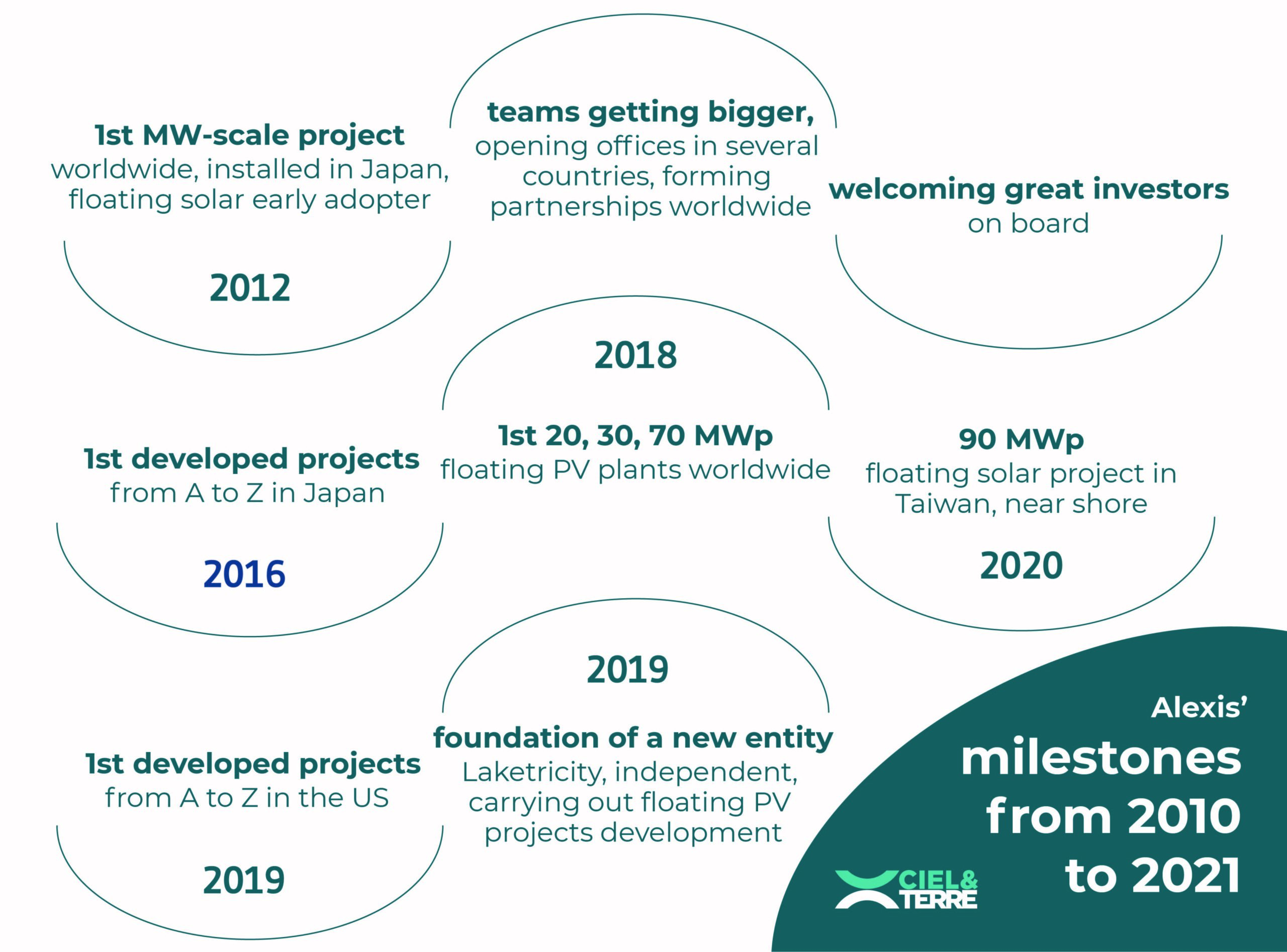 WHAT IS THE MOST IMPORTANT THING YOU'VE LEARNED FROM YOUR EXPERIENCE IN C&T?
Have and keep in mind an overview of what we are working for and why. The reason why we work at a macro scale (for us spreading renewable energy for the world to be sustainable and taking the existing constraints into account) is key to remember. Indeed it enables to keep the sense of your work and makes you feel in harmony with yourself.
WHAT ABOUT INTERNATIONAL TEAMS' COLLABORATION & COORDINATION?
It really is essential.
I actually believe it is important to have complementary teams to be strong on the long run. In my opinion, it is made possible thanks to a shared mission and vision, and common values – where do we want to go together?
It is also important that the teams are local because they will understand best the local matters.
I consider it is a great chance and pleasure also that multicultural teams meet and collaborate on projects. It leads to authentic encounters. When we can meet them in person, which is not really possible at the moment because of Covid "parenthesis", it is always a great moment.
WHAT IS YOUR FAVOURITE MANTRA?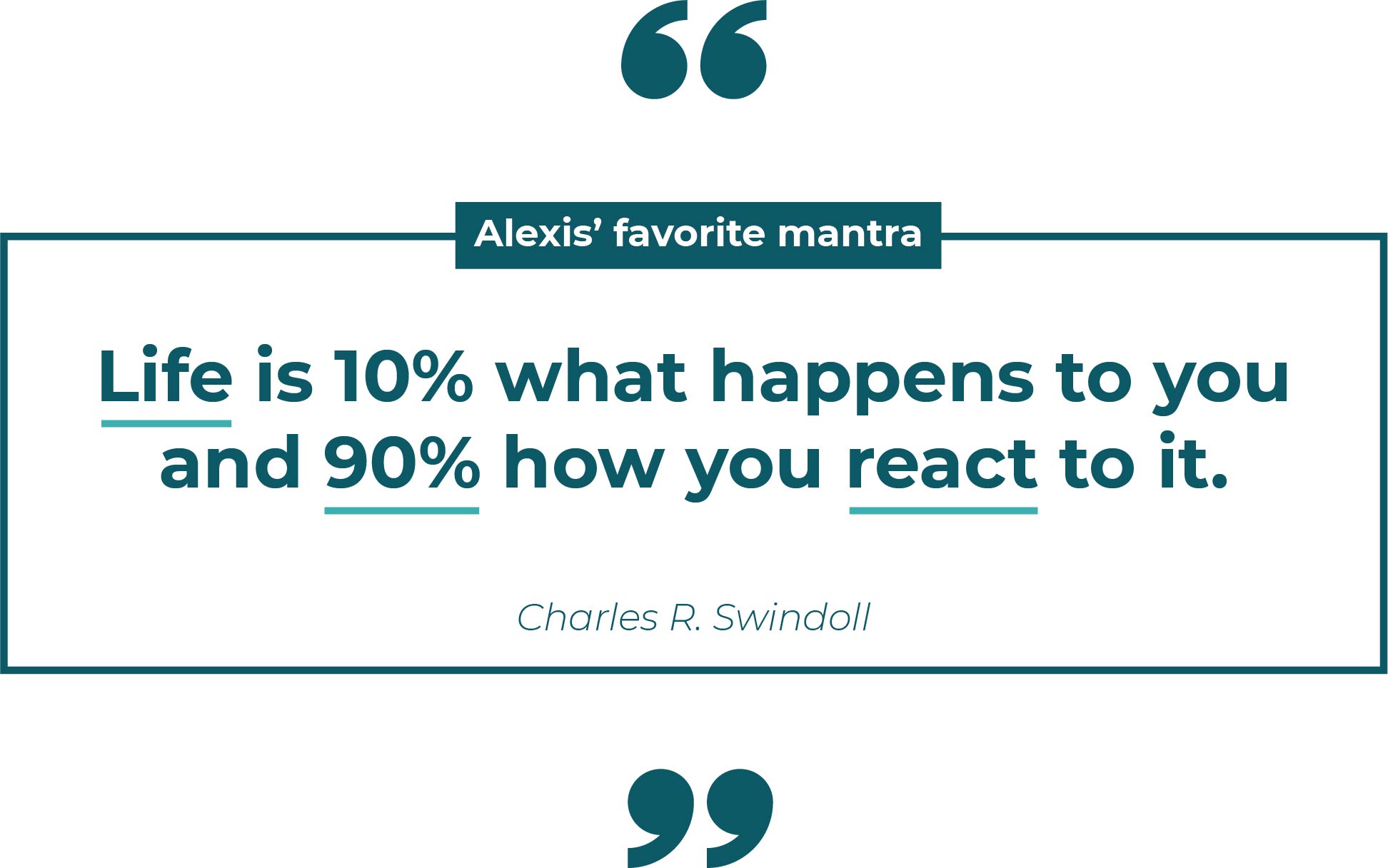 ALEXIS GAVEAU, AS A CEO WHAT IS IN YOUR OPINION, A GREAT LEADER?
Leading the way for a Project, under one or several persons, is possible thanks to the synergy of
Having a vision and carry it – including having an ambition, and the "why" you do it
And turning it into a reality – what you actually do to make it come true.
This mix of characters is what can federate people and sustain a union around a mission. What counts most is the group of people gathered with the same goal.
WHAT ANIMATES YOU IN YOUR CEO JOB?
Several things actually. First is to create great products, which enable to achieve renewable energy projects. Then integrate those renewable energy projects in their environment. Last but not least, I would say the people.
WHAT KIND OF OPPORTUNITIES DO YOU FORESEE FOR CIEL & TERRE IN THE UPCOMING YEARS?
Knowledge and know how accumulated over the last 10 years about floating solar will make this niche market an industrial-size market (GW), while further considering market specificities.
In addition, our R&D teams are working on a disruptive concept which will break the codes of floating solar and upgrade its potential: floating solar will be more competitive.
WHAT DO YOU THINK THE FUTURE WILL BE LIKE IN 10 YEARS?
To develop big projects on Near Shore FPV and to distribute the electricity to big cities including the storage capacities. Delivering electricity anytime with an immediate response is key for making renewable energies ever more reliable and so, ever more generalised.
Alexis Gaveau, CEO of Ciel & Terre International