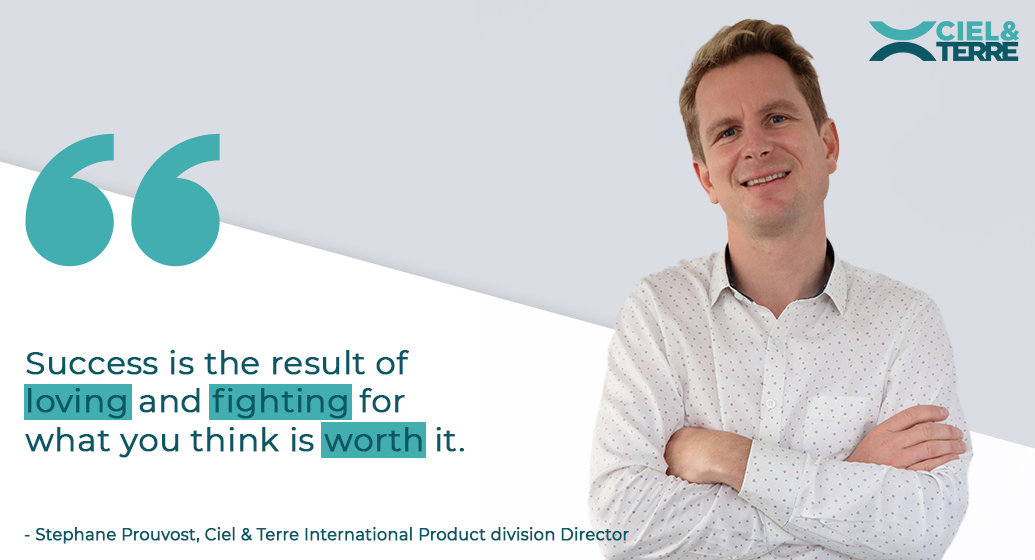 STEPHANE'S HISTORY WITHIN CIEL & TERRE
What does Ciel & Terre represent to you?
For me, it is a real opportunity to have an impact on the world by participating to a meaningful project, that of accelerate the spreading renewable energy globally thanks to innovation.
It is all the more important to find meaning in what I do and work for the planet as I am a dad of 3 children and want to contribute to make their future a bit better.
According to you, what are Ciel & Terre's spirit and most important values?
Innovation first. In all fields. Innovation for products but not only. It is also true for finance, communication… I believe we need to think and do things differently to succeed.
Then ownership. To appropriate one's work is a real motivating and fulfilling way to work. This passion in the job we do is a main driver for achievements.
STEPHANE'S ROLE AND EXPERIENCES:
Can you describe your role within Ciel & Terre (main missions? responsibilities?)
I coordinate the product development teams (France, India and other subsidiaries) to get as efficient as possible in our development process while being in phase with the different markets and their competitiveness.
Our R&D works on further developing the current floating Hydrelio® floating and anchoring solutions and they imagine and develop floating solar solutions for tomorrow.
Could you share what your managing experience taught you?
Communication is essential. Because of individualities, ways of communication can vary so it is really important to focus on it. We need to pay attention to each other, listen each other…
As a manager, figuring out the assets of each person at their best is also crucial.
Then, trust in our teams is one of the most precious thing.
Finally sharing a vision and being authentic is a real bridge to get passionate teams.
Any specificities that being abroad taught you?
Living and working abroad is very enriching thanks to the multiculturality.
Opening a subsidiary in a foreign country is also a great learning environment because you do everything from scratch in a country which you know less because it is not your home country: you play an important role in creating the company, building and managing a team, in finance, in industry… so that the adventure and energy projects come true.
Plus, India is a fascinating country as per its dynamism. There are many enthusiast young people.
So far, what has been the most memorable moment for you and for your team/for the office?
My encounter with Deepak. It was at an exhibition in India. At that time, he was working for a PV module manufacturing company. We got on well and he made me join a conference at the fair. We got a quick and easy nice contact which led to a great collaboration which is still ongoing today.
Encounters are actually what makes Ciel & Terre.
What is the most important thing you've learned from your experience in Ciel & Terre?
That passion and tenacity are what makes us succeed. Success is the result of loving and fighting for what you think is worth it.
Could you tell us more about international teams' collaboration & coordination?
International communication is made very easy nowadays with all the tools we know. This is a great opportunity to be able to work with multicultural expert teams efficiently.
And the multicultural aspect is not an obstacle as some may say -rather a wealth within a team. On the one hand it is because we have a batch of standards as a basis to exchange, on the other hand because differences make us stronger.
What is your favourite mantra?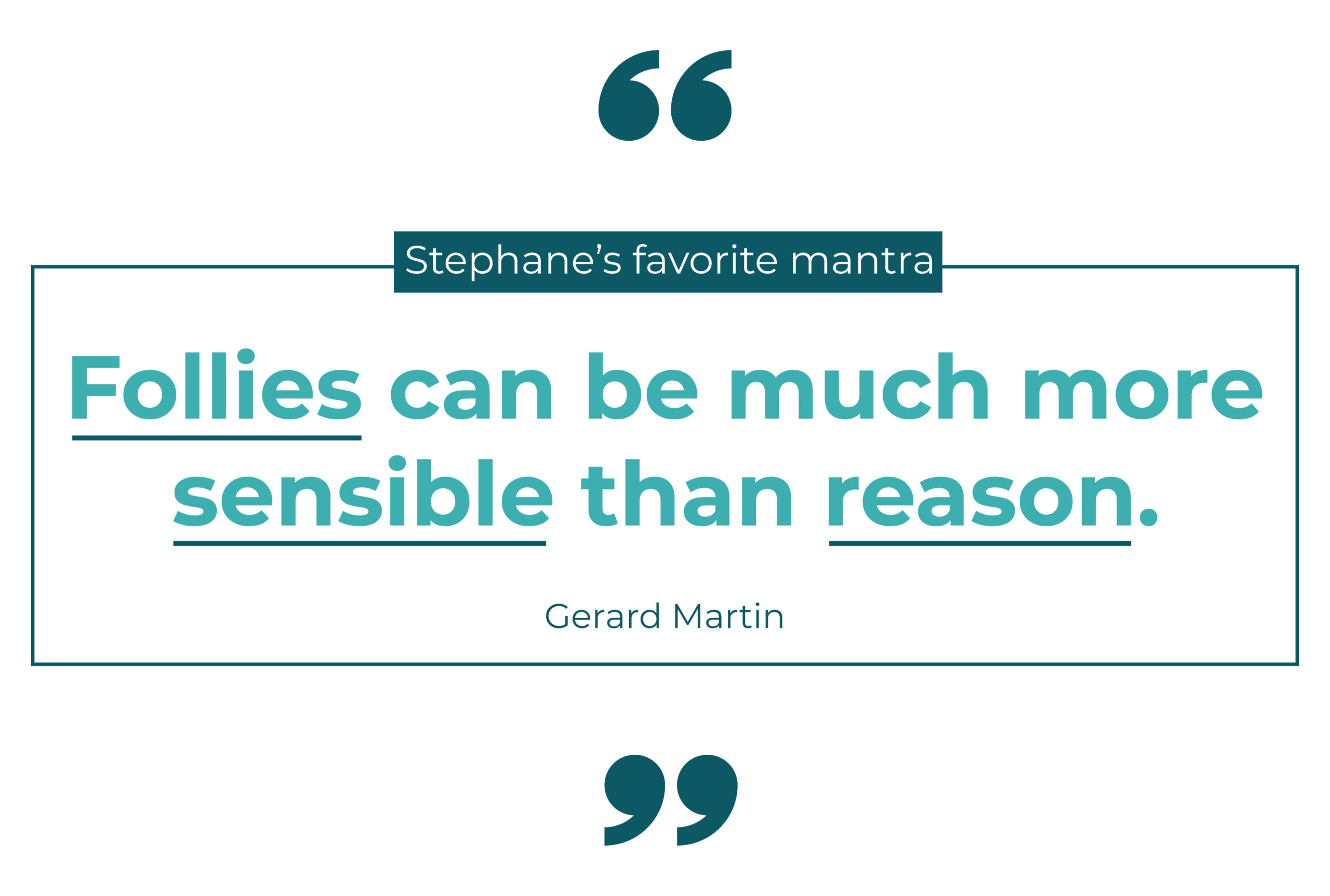 BEING A PRODUCT DIRECTOR
In your opinion, what is a great leader?
Someone who manage to embark people by passing on their passion to them.
What animates you in your Product Division Director job?
Do what's never been done.
What kind of opportunities do you foresee for Ciel & Terre in the upcoming years?
I envision a floating solar GWp great increase, potential is not fully unlocked. In the years to come, it will go in pair with the question of energy storage.
This future will be particularly bright for hydrodam sites.
Consequently, the impact we have on renewable energy production enablement will be bolstered.
From your perspective, what do you think the future will be like in 10 years?
There will be more electric devices, vehicles. Energy is key in the industry and will be ever more. It is what enables us to develop and grow. Plus, the world will be even more international, with the challenging dominance of the Asian continent.
I also think that at that time we will have more sober consumption habits.