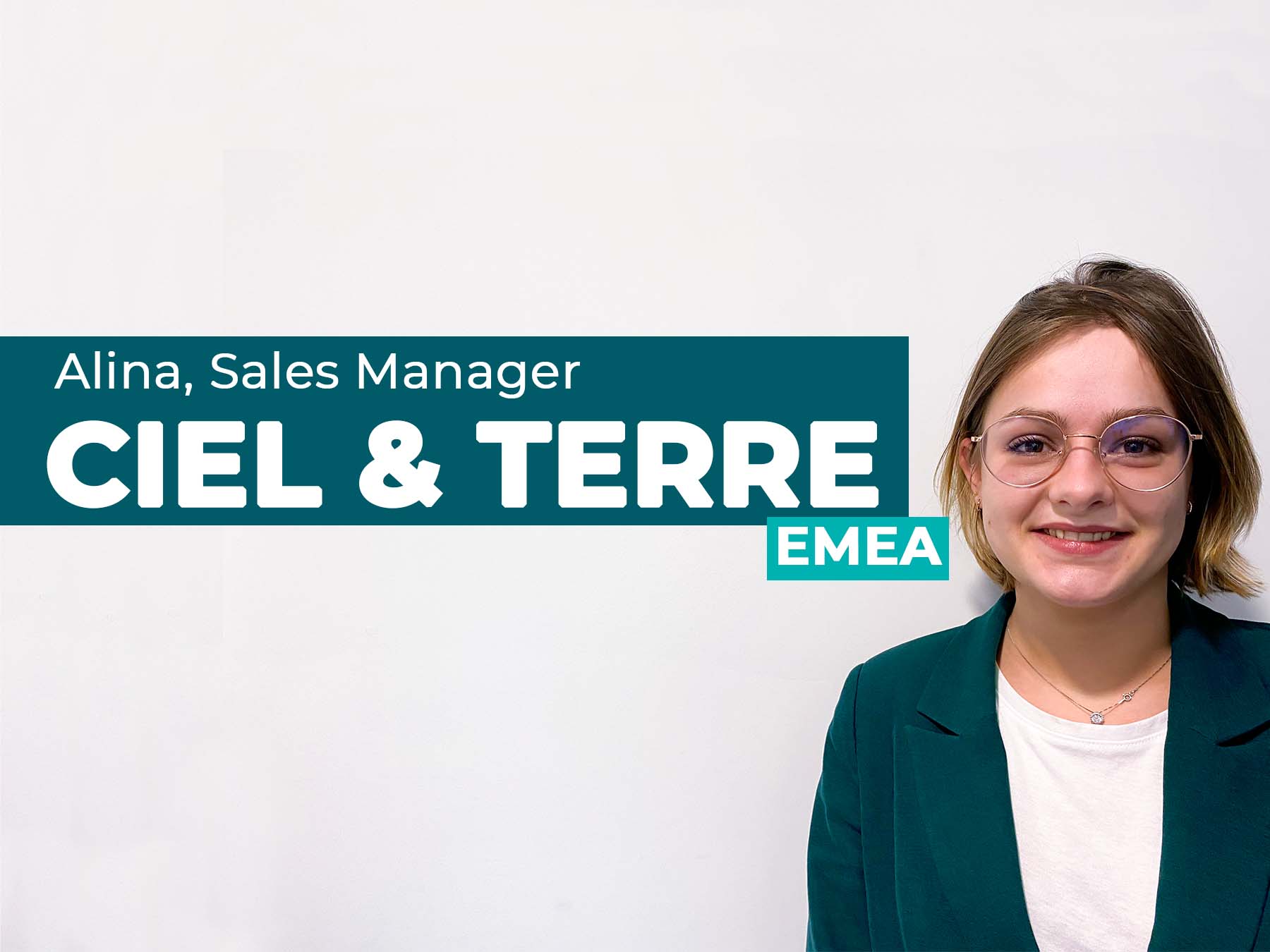 Who is Alina, one of our Sales manager in the Ciel & Terre EMEA?
Master of Science of International Economics (University of Lille, France)
Interest: sensitive to the environmental challenges
Motivation: engage professionally within an international and innovative company that provides sustainable energy solutions.
WERE YOU EASILY INTEGRATED INSIDE YOUR TEAM?
Thanks to the Ciel & Terre teams, I really enjoyed my first integration weeks. These were focused on intensive training from different departments about company's vision and values, its core activities and missions, its technology and the workflow processes. I am extremely grateful to each member of the CTI French & worldwide teams who shared their knowledge with me and their know-how and have supported and advised me. It is a real pleasure to work with welcoming, creative and motivated people, who respect each other and collaborate closely to make renewable projects happen.
HOW WOULD YOU DESCRIBE YOUR JOB?
As Sales Assistant for the EMEA area (Europe, Middle East, Africa), I am working in the sales department within an international environment, which is exciting. The team I work in assist diverse market actors, meet different people and contribute to floating solar projects development. Moreover, I am the contact point between CTI, its clients, partners and suppliers. In consequence, I present and promote Hydrelio® technology. Indeed, I organize and take part in conferences and meetings, I proceed market analysis. In addition, I connect with diverse market actors.
WERE YOU GIVEN MANY RESPONSIBILITIES AND/OR OPPORTUNITIES?
CTI is a company that truly values each employee and believes in everyone's potential. Consequently, it is a great experience for an intern to feel the confidence from the company and to feel that their work is appreciated. I had the opportunity of managing important project issues in a multi-cultural context along with inter-department collaboration (eg between R&D, PMO, Marketing…).
WHAT DID YOU LEARN?
I learned a lot about a sector that was not familiar to me before. For that reason, it requiried continuous learning to be up to date and this is part of its charm. I consider this experience as one of the most enriching, as I was able to daily improve myself and learn new things.  For example, I am more comfortable with different market strategies, commercial procedures and techniques. Furthermore, I improved my business English level. CTI taught me a lot in terms of professional competence as welle as also in terms of personal development.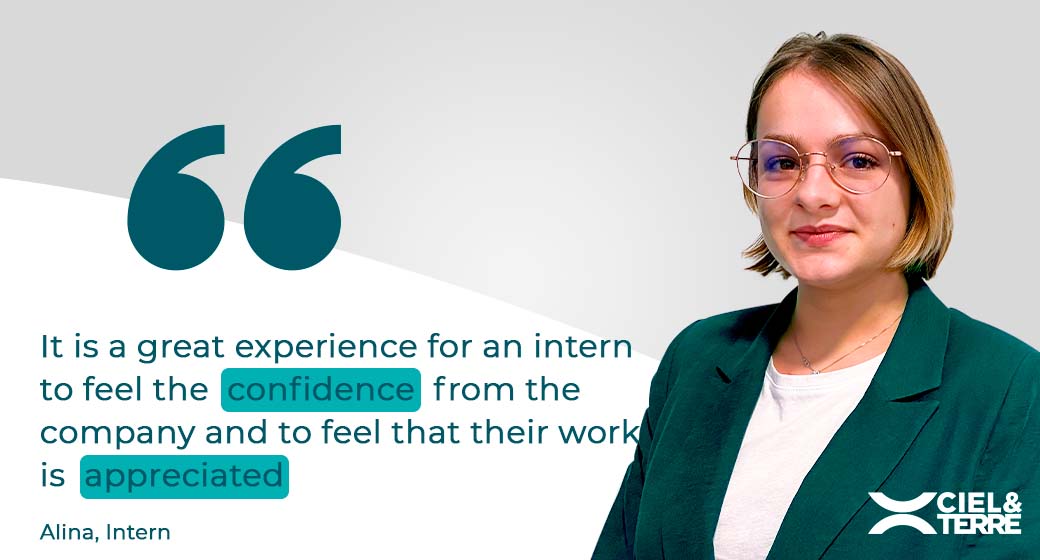 WHAT WAS THE MOST IMPORTANT MOMENT FOR YOU?
A lot of important moments happened such as my first successful meeting, my first task without mistakes, and, of course, seeing projects you worked on becom a reality… I was extremely proud and excited when doing my first steps on the floating solar plant created by Ciel & Terre. It is amazing to know that you contributed to the projects that bring green electricity to people. Yet, it starts from an idea and ends by a grid-connected PV plant.
YOU ARE AT THE END OF YOUR INTERNSHIP, WHAT DO YOU RETAIN FROM THIS EXPERIENCE (HUMANLY AND PROFESSIONALLY)?
As an innovative company contributing to green electricity production, CTI shares strong human values.  CTI valorises each employee and cares about everyone's career growth and personal fulfilment. People believe in the importance of their mission and have strong convictions as well as human qualities. This environment inspires, motivates and improves the sector. Indeed, thanks to its dynamism, flexibility and the R&D has a big place in the company. This kind of attitude is very empowering and makes employees feel comfortable and happy at work. As a result, I am fulfilled and I am also very proud my internship led to a professional opportunity.
DO YOU NOW HAVE A BETTER IDEA OF WHAT YOU WANT TO DO NEXT?
I've always wanted to evolve in international business, business development or project management.  However, I discovered the solar sector and renewables. Consequently, that made me realize I have found my vocation. I want to keep contributing to the rising trend of floating solar energy. Indeed, I chose to be involved in the development of carbon-free electricity, and to fight against climate change and global warming. Truly, I am convinced that surrounded by the right people, we can all together change things and allow renewables expansion.
WHAT WOULD YOU WANT TO SAY TO SOMEONE WHO WOULD LIKE TO APPLY FOR AN INTERNSHIP AT CIEL & TERRE?
I think that the most important thing is to feel free to come up with your ideas, to show what you think and what you can bring to the company. New points of view, fresh ideas, authentic and creative people are always welcomed to Ciel & Terre. If you have a particular interest for green energies, for innovative solutions and if you are sensible to climate change, you must apply! Believe in yourself and in the industry potential is a key of success.
Interested in joining the Ciel & Terre teams? Apply here.
Follow us on LinkedIn to stay aware of our news :