Vincent Grumetz, Managing Director at Ciel & Terre EMEA shares with us his background, his role, and most importantly his vision of Ciel & Terre. Discover the company through Vincent Grumtez's eyes: the most memorable moments, lessons learnt and of course the skills to be a Managing Director.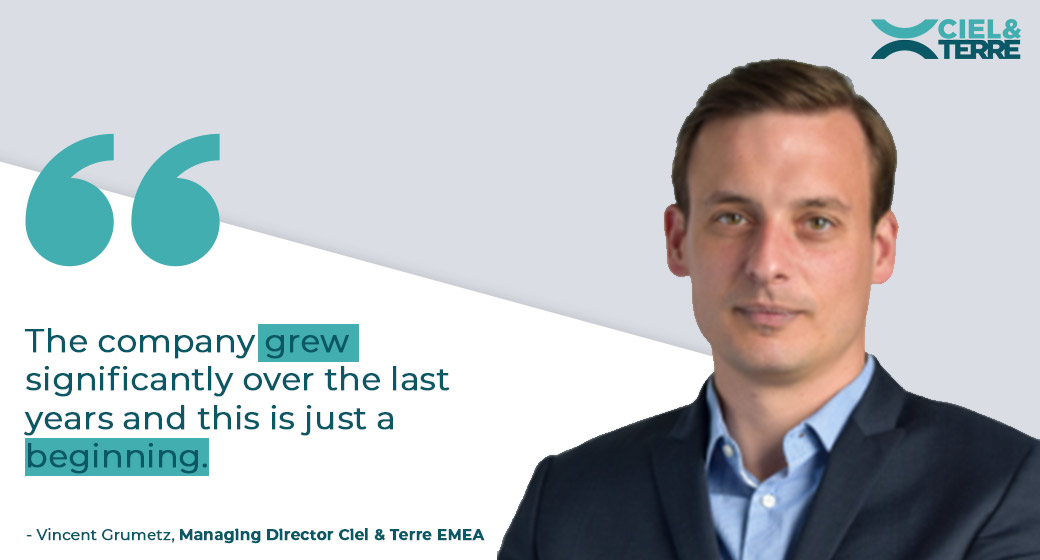 FOR HOW LONG HAVE YOU BEEN WORKING FOR CIEL & TERRE, VICENT GRUMETZ, AS A MANAGING DIRECTOR?
I started at C&T by the end of 2020. In fact, I knew the company from my previous experience. We were manufacturing all kind of flexible structures and C&T came to us to investigate the possibility of making a flexible floating structures. While joining the company, I quickly realized how interesting this emerging market is and all the benefits it will bring to our planet. The European market is now entering this FPV sector, and we (my team and I) are all enthusiastic to see this great future.
WHAT DOES CIEL & TERRE REPRESENT TO YOU?
Before joining, C&T seemed to me to be a Renewable Start-up company. After few months working there, I changed my mind and understood how professional, experienced and mature the teams are. They are all committed to customer's satisfactions, bringing high quality and reliable products to make their projects successful.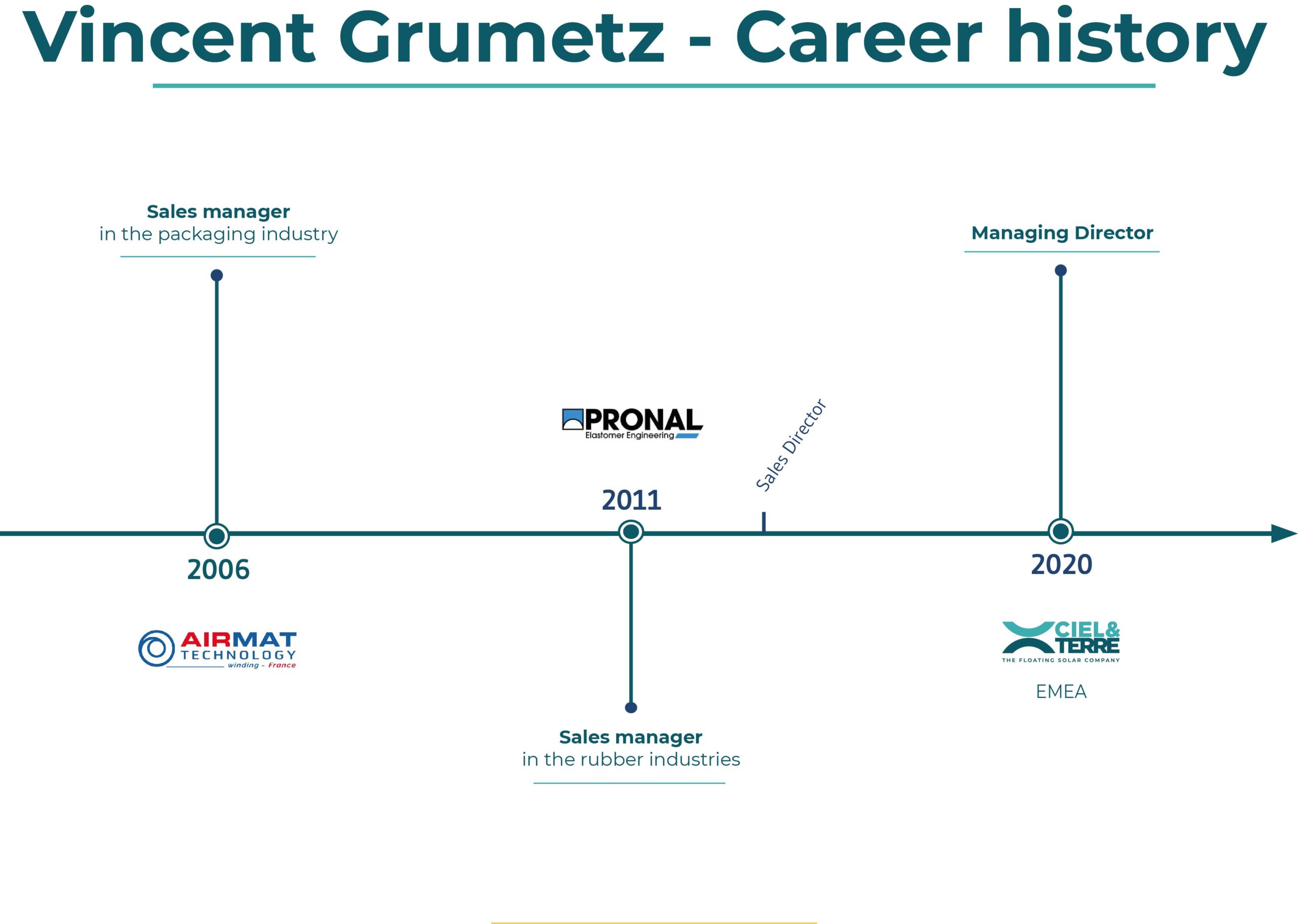 ACCORDING TO YOU, WHAT ARE C&T'S SPIRIT AND MOST IMPORTANT VALUES?
Creativity, reliability, audacity are some of the most important values I may find internally. Those values made C&T the pioneer of floating solar.
WHAT QUALITIES DO YOU THINK C&T PEOPLE HAVE?
People are very straightforward together, openminded and results-oriented. Working in C&T means working with a team, willing to help each other for every single topic.
SO FAR, WHAT HAS BEEN THE MOST MEMORABLE MOMENT FOR YOU AND FOR YOUR TEAM/FOR THE OFFICE?
I'd say the most memorable moment is the signature of our first multi MW projects in France. For years, we have been exclusively working with a partner for the French market. But now, we are back in business in our home country. However, I am really sure we'll have much more successes like those ones and I look forward for it.
WHAT IS THE MOST IMPORTANT THING YOU'VE LEARNED FROM YOUR EXPERIENCE IN C&T?
Always believe in your dream… when Bernard and Alexis started years ago, they were convinced this technology would be a game changer in the renewable sector. And they were right. The company grew significantly over the last years and this is just the beginning.
WHAT IS YOUR FAVOURITE MANTRA?
Everyone should have a dream to believe in (as Bernard and Alexis had years ago) and then if you do everything you can to make it real, there are high chances it will happen. It won't be simple but it is possible.
WHAT ANIMATES YOU IN YOUR POSITION OF MANAGING DIRECTOR?
Having my team happy to work, successful in what they do and willing to dare new things. As their managing director, I am trying to share the short and mid-long term vision of our business. They have to be sure that they will always be supported in every single action they'll start, by their team members, by me. Every person is different and this my role to understand how they behave to place them in the best conditions. Another mantra I may use is: "Alone we go faster, together we go further".
WHAT KIND OF OPPORTUNITIES DO YOU FORESEE FOR CIEL & TERRE IN THE UPCOMING YEARS?
Future will be brilliant! The European market recently jumped into floating solar. We notice many actors for the renewable market are now trying to join in. The number of sites which have been secured is huge and it reflects a very high potential for the coming years. At the top of that, C&T EMEA is addressing a turnkey offer to the market. We are designing the platform and its anchoring system, manufacturing the whole equipment and finally installing the anchors and assembling the floats. Our unique expertise on this market makes us able to provide a unique package to guarantee the efficiency and reliability of every projects.
WHAT DO YOU THINK THE FUTURE WILL BE LIKE IN 10 YEARS?
For sure, the renewable energy market will be more important. We can see mentalities changing and people getting aware this is time to think for the planet. During my last vacation, I had the chance to watch a movie with Thomas Pesquet (French astronaut). Thomas was saying "from the International Space Station, I've been able to see how we "hurt" the Earth"".
I'm convinced that during his next trip there, he will see more wind, solar … parks, and especially our Hydrelio platforms. 😉
Vincent Grumetz, Managing Director at Ciel & terre EMEA