BEYOND THE PRODUCT,
WE CONTRIBUTE AT EACH
STAGE OF YOUR PROJECT.
OUR GOAL?
To provide a turnkey solution with a large range of services:
from engineering to construction of the floating photovoltaic plant.
HOW DO WE ACHIEVE IT?
We centralize and manage the entire chain of implementation of the structural portion of the floating system including anchoring, and we advise on the electrical portion as needed. Our teams have a deep understanding of the challenges of floating solar energy and accompany you throughout the project development process, providing a wide range of services.
A global mastery, with a unique know-how from distribution to design through installation, which allows us to develop viable and bankable projects.
In addition to our floating solar technologies, we provide a wide range of services starting with the engineering of the plant's anchoring system.
First, our Design Department analyses the technical feasibility of your project and provides you with a detailed view of your entire floating photovoltaic installation. This includes the sizing of our floating PV structure and its anchoring, as well as assistance in optimizing the basic electrical sizing.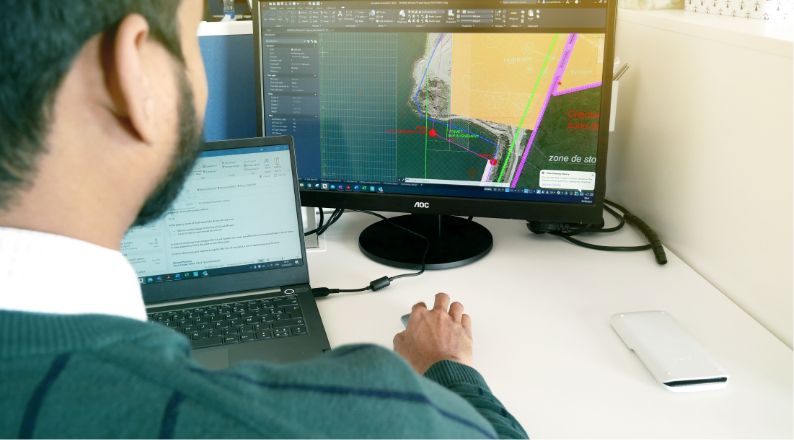 Our engineering services include :
Feasibility studies realization by our pre-project engineers.
Design and preliminary sizing of the floating island and its anchoring.
The assignment of a project manager dedicated to your project from the design stage to the installation and anchoring of the floating solar power plant.
Floating platforms and anchoring
systems are inseparable.
Anchoring is a crucial part of a floating solar farm and must be
designed and implemented with professionalism! That is why,
we have developed our team of experts dedicated to the research,
development and design of the FPV anchoring.
For any project entrusted to us, the anchoring engineering is
tailored in accordance with that of the floating solar plant. We
provide a customized anchoring solution, optimized and
adapted to the site's type and characteristics. For this reason, we design
and select anchoring systems of high quality that meet
local building codes.
Our anchoring engineering service includes:
The selection of the anchor type and sizing
Mooring line sizing
Anchor positioning adjusted to site specifics.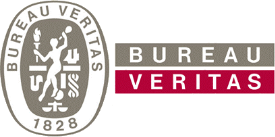 *The calculation methodology and the design of the mooring systems of our floating PV plants conform with the applicable rules and regulations Bureau Veritas NR 493 – Classification of mooring systems for permanent and mobile offshore units and conform with local building codes.
Actually, the methodology applied for the load calculations and associated safety factors has been found compliant with the applicable rules and regulations.
We are committed to on site delivery
With manufacturing lines located at the closest to your reservoir,
we ensure proximity and quality supervision throughout the
development of your floating solar plant.
We have developed a large network of partners which allows us to
have a total control of our production line until the delivery of our
products on site. That is why our floating PV systems are available and can
be delivered anywhere in the world.
LIFE TIME DURABILITY
Our floating solar technologies are designed and tested to last more than 25 years.
All our products are warrantied for 10 years minimum.
Our related services:
Production site selected close to your project location.
On-site delivery of the floating solar system and its anchoring
Guarantee of complete traceability of our products
Optimization of logistic flows to supply the site on time.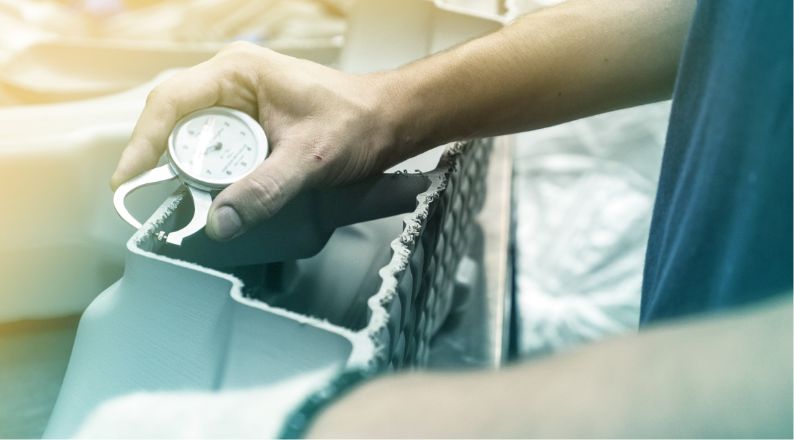 We favour local production to…
Simplify development processes
Ensure the fastest delivery time.
Optimize transportation costs.
Ensure our product reliability by selecting service
providers that meet our quality standards.
Encourage local employment.
Reduce carbon footprint by shortening transportation distances.
40
production lines
throughout
the world.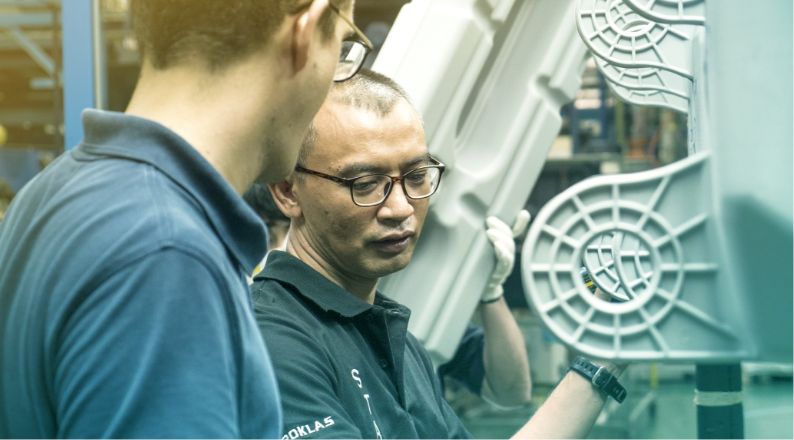 Quality is our priority
We work with a strong network of partners and technical
organizations to create safe and sustainable solutions. Accordingly, we select our suppliers with the utmost care. Each of the
factories we work with undergoes a precise audit of its
quality processes.
Also, we have established a Quality Assurance Plan (QAP)
followed by all of our suppliers to guarantee the reliability
of our products.
We are committed to providing a flexible and secure supply by all means.
With our dedicated team, together, let's build your floating solar power plant
Construction is a key stage in the implementation of your project: site preparation, construction process, storage optimization, launching of the islands on the water, etc.
That is why our teams accompany you and your partners throughout the process and construction work. It is also thanks to our years of experience in the installation of large-scale floating solar power plants, that we have acquired both recognized expertise and solid international experience.
As a successful project is a safe project, the employees' safety is our top priority. Therefore, we have established safety procedures and rules that we rigorously apply on all the projects we work on.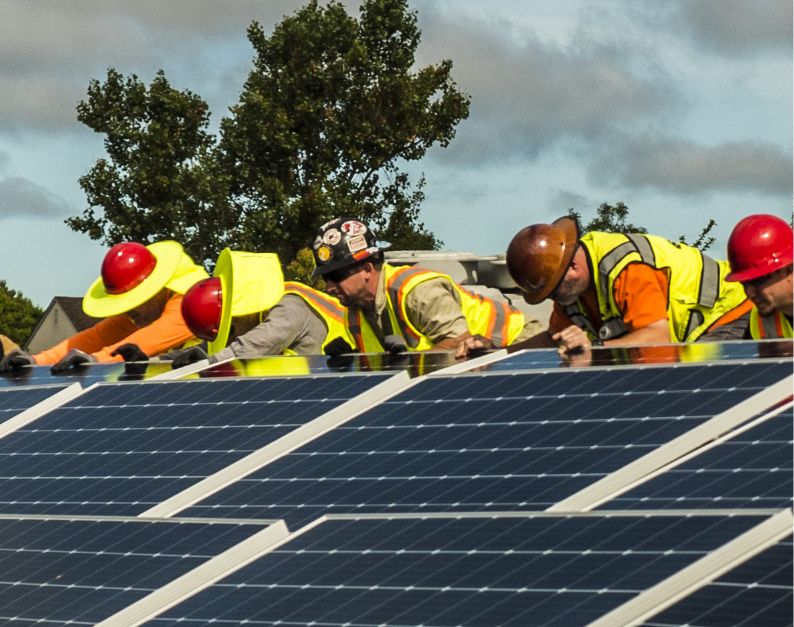 We are present at each step of your project, and we
can manage all the construction stages of the floating
structure and its anchoring.
our services before construction
The schedule phasing: we coordinate the schedule
with all the project stakeholders
An assistance in establishing protocols and safety
rules for the floating part
The organization of pre-visit for the site evaluation
(not available in the US)
Discover our construction services in images: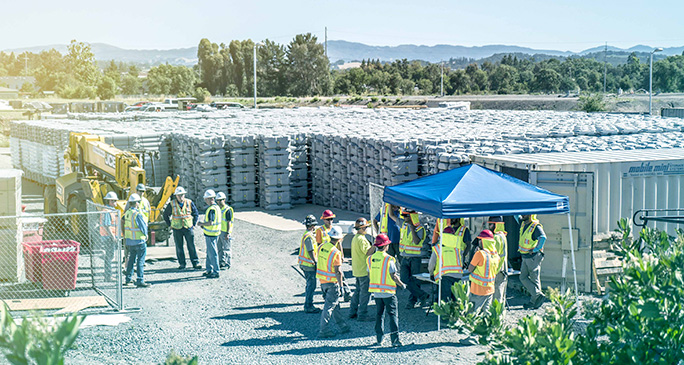 Site preparation: storage and assembly area
Site preparation for FPV project with Ciel & Terre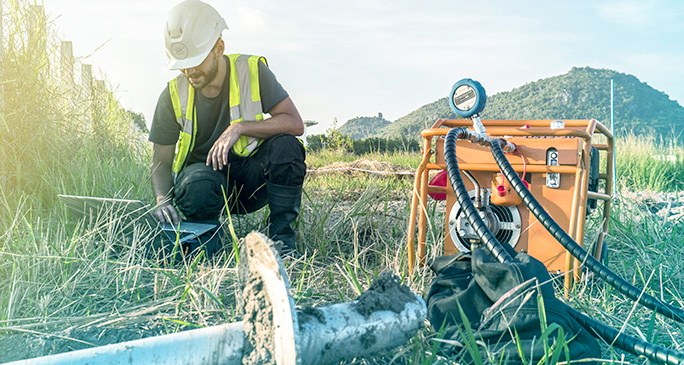 The complete installation of the anchoring system and mooring lines
Our engineering team managing anchoring installation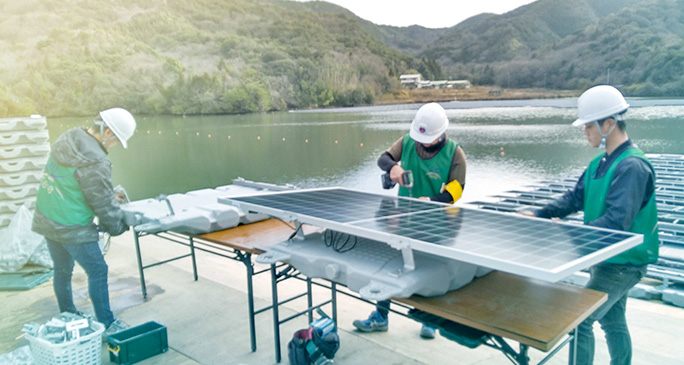 The assembly of the panels to the floats
Workers installing a PV panel on a float made in Ciel et Terre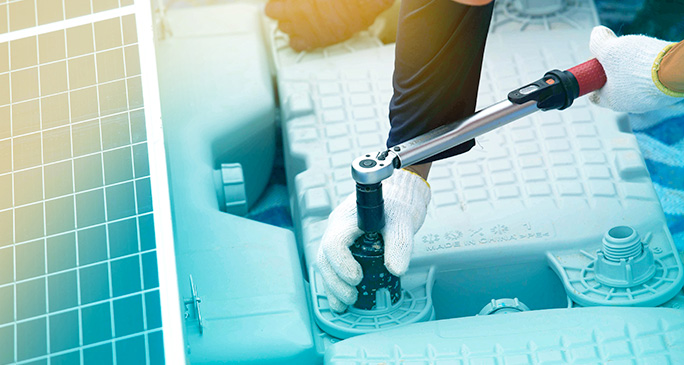 The floats assembly
Connection between floats for FPV projects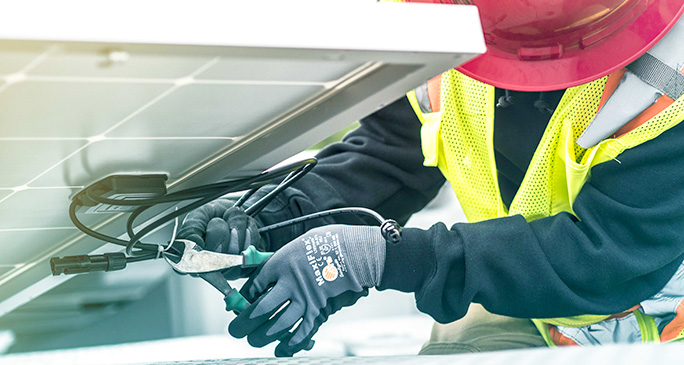 The "panels/string" connection and the ground cable connection
Cable connection for FPV project : The "panels/string" connection and the ground cable connection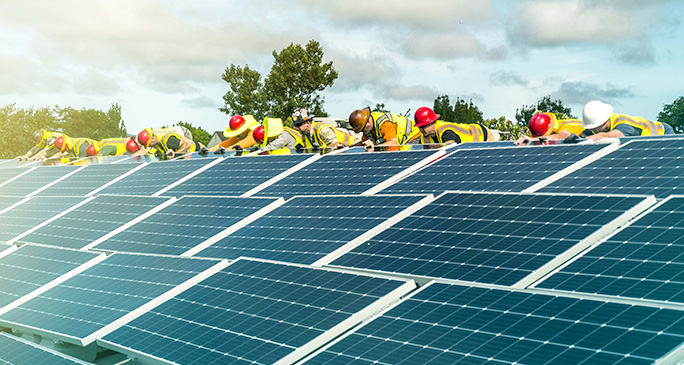 The launching for the floating solar islands.
The launching for the floating solar islands on the water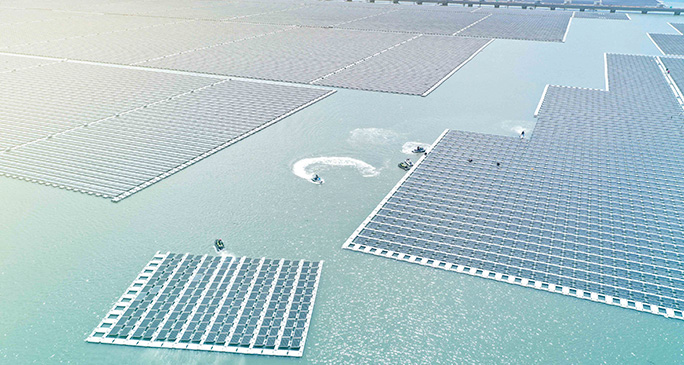 The assembly of floating solar islands between them.
Floating solar plant final assembly on the water.
The adjustment of the mooring lines to finalize the anchoring.
The adjustment of the mooring lines to finalize the anchoring.
We build sustainable floating
solar power plants, and we
look after them for you.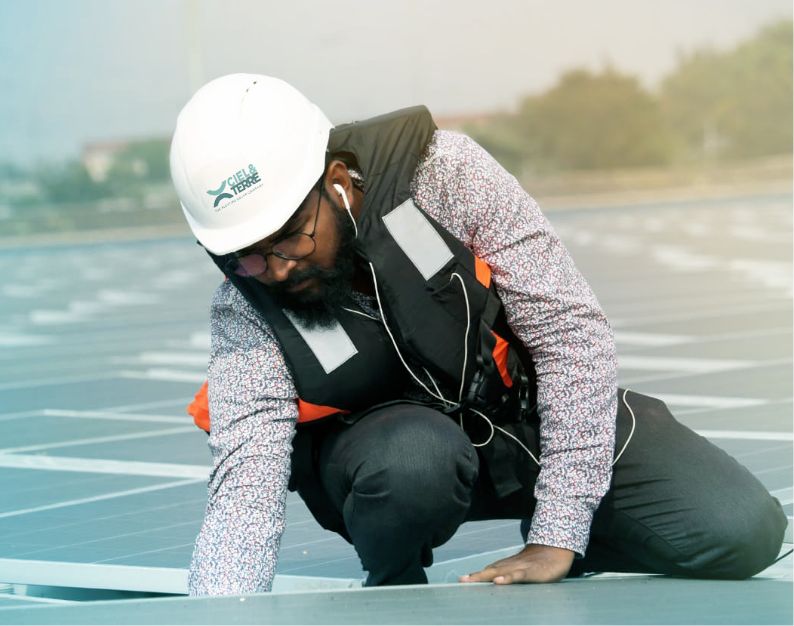 Your projects are also ours. We guarantee complete and efficient engineering services to ensure the performance, safety and longevity of your floating photovoltaic power plant.
To serve this purpose, we have developed an offer of maintenance services in several countries adapted to photovoltaics. Our dedicated team is also at your service to answer your specific needs. Entrusting us with the maintenance of your plant is choosing the experienced and expert team for your project! As a matter of fact, we have put in place trusted tools, porcesses and partnerships.
We use our own equipment to carry out our maintenance services: GPS, test and anchoring equipment, boats, ROV, PV cleaning robot etc.
And we have built also a network of specialized partners: divers, topographic or geotechnical study offices, cleaning teams that accompany us with their know-how on specific maintenance operations.
By combining our R&D strength with our global field experience, we have developed specialized technological knowledge. Thus, we are able to determine precise probabilities of failure of parts and to operate upstream on your site.
Our associated services :
An all year long maintenance offer
A maintenance offer « à la carte »
Our maintenance services cover the entire floating scope, including anchoring if previously installed by our teams.
An all year long maintenance offer:
We ensure the stock of spare parts for your project.
Our teams manage preventive maintenance including regular checks of the anchoring on the bank or on the bottom of the reservoir, the floating solar platform and the anchoring components installed on it.
We conduct curative maintenance operations such as the replacement of floats if needed.
A maintenance offer « à la carte »
We offer a wide range of services suitable to your needs:
The audit of the power plant
Maintenance operations following extreme weather events
Cleaning of PV modules
Interventions on the platform and/or the anchoring
And many others…
OUR SOLUTIONS PER SITE CHARACTERISTICS