Ciel & Terre Japan is the first subsidiary of the French floating solar pioneer Ciel & Terre International. Discover more about its history, its evolution and its present thanks to the contribution of the people who has made it what is now.
Why was Ciel & Terre Japan created?
Japan is one of the most obvious countries to host floating PV power plants as it is an island nation with heavy land constraints. Besides, it is very industrialized with significantly growing energy use. After the Fukushima disaster in 2012, Japan was looking to rethink its local independent energy production to compensate for the closure of all their nuclear plants.
When did the Japanese floating solar adventure start?
The first version of our floating PV product Hydrelio came out in 2012. The same year, we participated in the European Gateway exhibition in Tokyo after being approached and invited by the Japan External Trade Organization (JETRO) to expand our activities in Japan. Many energy project developers got interested in our technology and in floating solar, which was a brand concept at that time! One year later, we delivered and inaugurated our first project in Okegawa, which really allowed us to kick start the business and start navigating the Japanese waters. We actually achieved the world first MW-scale floating solar plant there in Japan. Following that, the demand for such projects was really high. Consequently, we created Ciel & Terre Japan.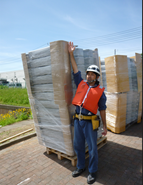 Picture from Okegawa's
construction site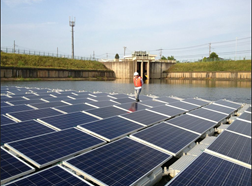 Our CEO walking on Okegawa floating PV plant – 2013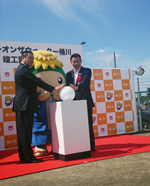 Okegawa FPV plant
inauguration
Who was at the origin of this initiative? Who contributed to it?
Ciel et Terre participated in their first event in Tokyo at the EU gateway program in 2012 where JETRO organized an event for innovative European companies to showcase their technologies that could be interesting to the Japanese market. This is where we met our very first agent Baptiste Bassot, a French who had lived in Tokyo for more than 10 years at that time. He represented us in Japan until 2013, when Eva Pauly-Bowles opened our first subsidiary in Tokyo, supported by the JETRO. Then, Alexis Gaveau succeeded her in 2015/2016.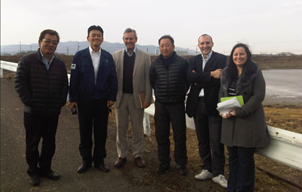 featuring Bernard Prouvost, Ciel & Terre founder, Baptiste Bassot and Eva Pauly-Bowles
How was the start of business like?
It was very interesting as the technology was very new at the time and despite the big interest for it a lot of detailed conversations had to happen before the first few projects could move forward. The French learned the art of "Nemawashi" and steadily grew the team in Tokyo before expanding in Kobe as business increased and local partners joined the floating PV adventure.
"Ciel & Terre Japan, settled in 2013 through JETRO, has started from zero up to nowadays, managing to keep the market leadership."
Remi STELLFELD, Ciel & Terre Japan Managing Director and CEO
How was the company received in Japan, by the government, the solar stakeholders, the companies?
Ciel & Terre received a lot of interest at a high level as the technology offers an obvious answer to some of the challenges to deploy timely solar systems in Japan. We solidified key partnerships, especially with Kyocera and TCC for our first projects then became the leading company in Japan for the emerging floating solar industry.
Ciel & Terre at Tech for Good in Japan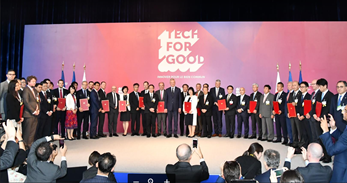 How has Ciel & Terre Japan evolved since its creation?
Ciel & Terre settled in Japan in 2013 through JETRO who supported to promote the first steps of the new-born venture company. It has started from Zero up to nowadays, with
• 2 offices (Tokyo and Kobe),
• over 30 motivated and fully dedicated employees,
• almost 200 Megawatts designed and build up over 130 power plants,
and by
• localizing as much as possible the production of the floats and the supply chain,
• gaining the trust of the local population and authorities,
• tackling the interest of our innovation to major Japanese sōgō shōsha who became stakeholders of CTI,
• proposing a business model that seduced Japanese mega banks, but as well regional banks,
• expanding the fever of FPV solutions to overseas countries.
What role does Ciel & Terre Japan have in the national solar industry?
Ciel & Terre focused its activity in a niche area by occupying water surfaces in a country where lands are limited and valuable. Considering the latest governmental targets to increase the share of renewable energy, the FPV model is being highlighted as a smart and promising solution for Japan topography. As of fact of proof, we are facing the emergence of newcomers in FPV industry since few years, but we are managing to keep the market leadership thanks to our accumulated knowhow and experience.
METI and Ciel & Terre are tightly working together as well to establish the upcoming regulations to be applied around the growing potential of FPV industry.
How is it perceived by the government, the solar stakeholders, the companies?
Recently, several natural disasters occurred consecutively to the settlement of ground mounted solar plants, and consequently highlighted all the advantages of the sustainable aspects of the FPV concept. Within the PV industry, FPV has even been dissociated as a specific field which will be eligible for governmental subsidies supporting the solar stakeholders' appetite.
Following governmental target to reach carbon neutrality, we see more and more companies owning or investing into FPV. Moreover, the trend is to enlarge the size of FPV plants by exploring the offshore potential.
Ciel & Terre Japan is leader on the national floating solar market thanks to our Hydrelio floating solutions and the associated services provided. Moreover, we propose a smart O&M offer for our clients.
What is the ambition of Ciel & Terre Japan?
Ciel & Terre is once more willing to keep the leadership in Japan with the strong support of its shareholders.
We also have a partnership with Itochu with more than 30 MWp of projects in the pipe.
We have as well reinforced our project development team with the aim to develop wider scale project. So far, we have standardly developed a lot of 2 MWp projects.
By Remi, CEO OF Ciel & Terre Japan,
Alexis, CEO OF Ciel & Terre International,
Eva, Development managing director, and Ciel & Terre Japan early leader,
and Laura, Marketing